People always pursue fashion and beauty. In order to meet people's needs for beauty, our false eyelashes are constantly innovating, especially the magnetic eyelashes that have been popular in recent years.And the magnetic eyelashes have experienced the development of five generations. The following magnetic eyelashes are the best and most popular magnetic lashes in 2021.
1.6magnets best magnetic lashes 2021
This magnetic eyelashes are made by the faux mink hairs,so soft,and light weight,and have a little fluffy natural looking.These 2lashes both are inside shorter length,and the outside is longer length,similar as our natural lashes,so they have natural looking.And the big overlapping and the small and big overlapping,make the lashes so beautiful.
The 6magnets lashes,and the magnets are smaller than before,light,and easy to use,and also stick stronger than before.And also magnetic lashes can wear more than 60times with proper care.So you can rest assured to purchase,really worthy.Our lashes are with best materials,fine artwork,and the magnets stick strongly well,so you can gain your long-term loyal customers.
These 6magnets lashes,can use at any occasion,party,appointment,work,also night,etc,very economical.And the price is .2-.8 per pair.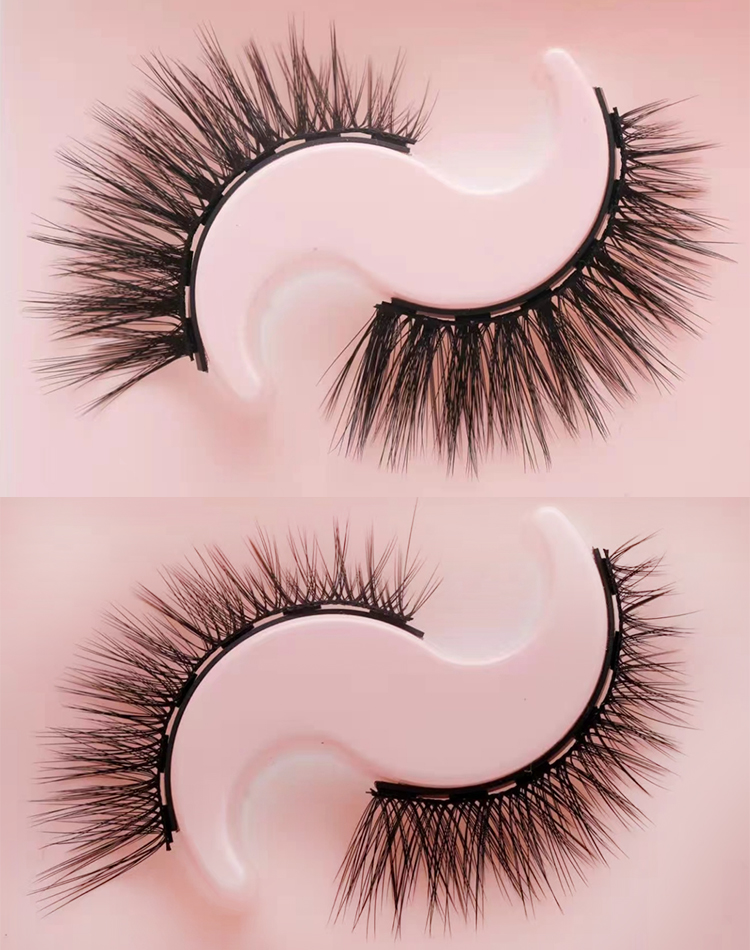 2.10magnets best magnetic lashes 2021
This 10magnets magnetic eyelashes each piece is with 10 very small magnets,so the lashes become softer,more easy to apply for and stick stronger.The lashes are soft,and no burden to the eyes,and avoid the damage of the glue to the natural lashes and skins.The magnets are small,so lashes are more flexible and more comfortable wearing.
The 10 magnets lashes are made by the high quality faux mink hairs,really similar as the mink hairs,they are vegan and cruelty free,can be rest assured to wear for the animal protecter and the environmentalists.Also faux mink lashes price is lower than real mink lashes,but still reusable to use.
Our magnetic lashes are with good materials and made by the experienced workers,carefully inspected for each process,so we guarantee 100% good for our magnetic lashes.And we are the professional source factory,so our price is low and you can have more profit and big competitive edge.
These 10magnets lashes,any of our lash styles can make into 10magnetic lashes,can use at any occasion,party,appointment,work,also night,etc,very economical.And the price is .4-.9 per pair.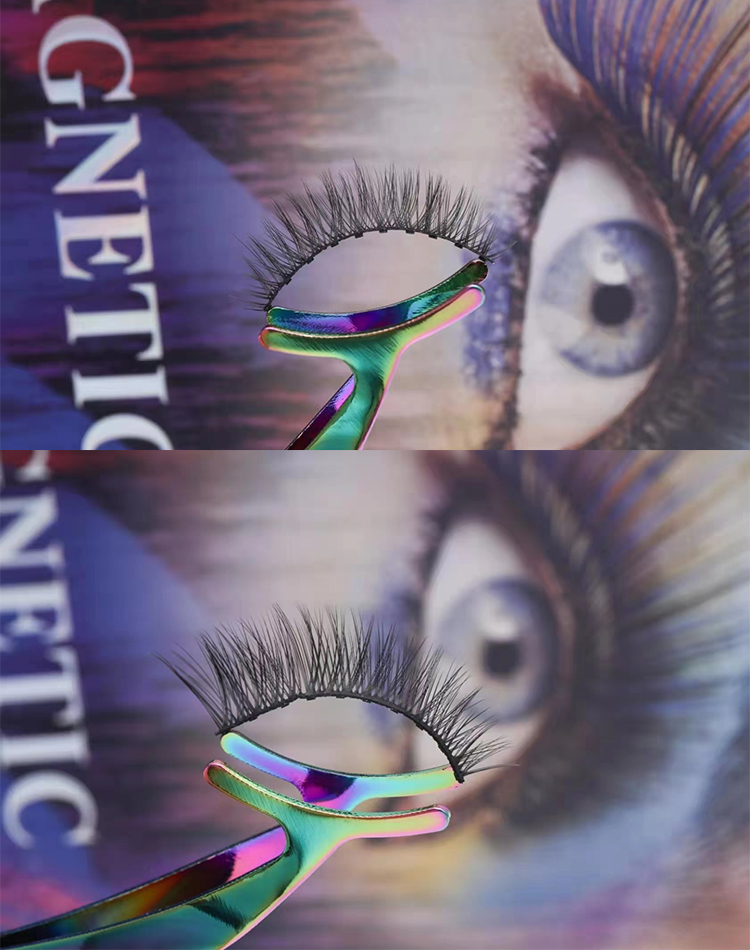 3.5pairs per pack with magnetic eyeliners 5magnets best magnetic lashes 2021
This is a 5pairs pack magnetic lashes packed into the luxury magnetic package box,that is a set include 5pairs magnetic lashes,1 magnetic eyeliner,1 lashes applicator tweezer and 1 mascara wand.The 5pairs lashes are different lash styles,some natural ones,some volume ones.The set is really convenient to use,only with this set,you can have beautiful eyes and lashes at once.This package box is with no logo,and also can do private label,logo as need.
These 5pairs magnetic lashes are made with 5magnets each piece.The magnets are a little bigger than the 10small magnets,so stick really stronger and long last using.The faux mink lash hairs are made into volume styles.Our magnetic lash styles are unique and special and good materials for long lasting use.And we have experienced workers to make the magnetic lashes,each magnet sticks really good and we inspect each of the lashes to guarantee all of the lashes are good quality.We are the manufacturer and directly supply to you,that is primary source,the best low price.You will have big competitive edge.
These 5pairs magnetic lashes the natural style suit for daily use,and the volume thick longer ones can be used at ball,celebrity party,etc.5 different styles are more choices to use.And the price for this 5pairs pack magnetic lashes set is .5-.5 per set.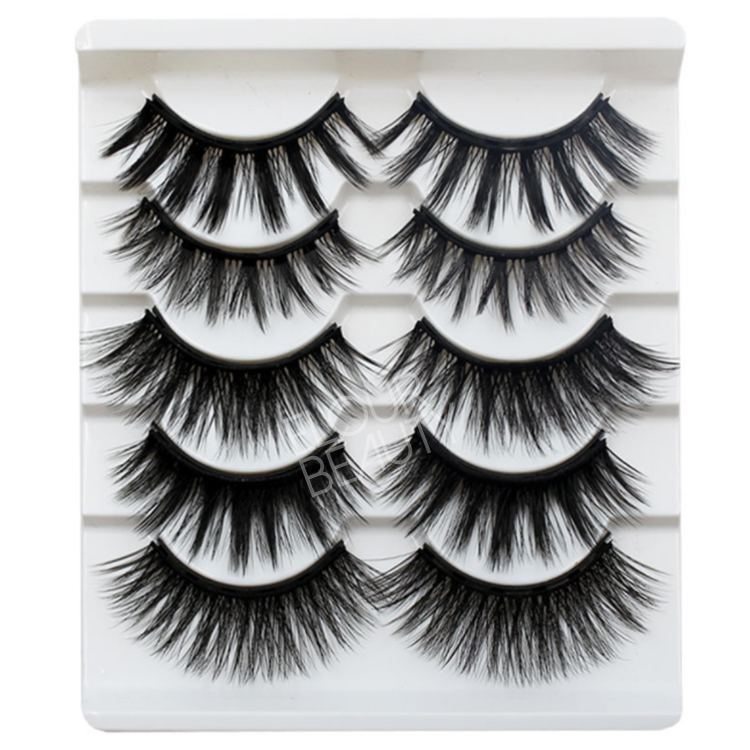 4.Invisible magnetism best magnetic lashes 2021
The invisible magnetic eyelashes are the 5pairs pack lashes are the newest magnetic lashes in 2021,and they are the newest generation of the magnetic lashes.The invisible magnetic eyelashes are the eyelashes have magnetism,but no magnets on the lash bands.
This is 5pairs invisible magnetic lashes in a pack,with one magnetic eyeliner,one magic pen eyeliner,one applicator and 10pcs swobs.The full set with lashes,with application and the remover.The 5pairs lashes are light weight natural silk lashes,really soft and easy to apply.Different lash styles give you more choices.
The silk hairs are natural vegan hairs,really soft,and reusable,not high price,but with good quality.
The invisible magnetic lashes are the newest magnetic lashes in 2021,people always like new lashes,so the invisible magnetic lashes are hot once they are launched.They are really good selling.And after some time improvement,our manufacturing technology for the invisible magnetic lashes are matura.And our invisible magnetic lashes are with strong stick,and the magnetism can last long time.Even if the lashes are with no magnetism,the lashes can still reusable.Due to the new lashes and the easy use,so the invisible magnetic lashes can help you to gain more market share,and get more customers.Due to only we can manufacture the invisible magnetic lashes,and when you get them you can gain more profit.
We have many more styles for the invisible magnetic lashes,so for more choices.
This 5pairs invisible magnetic lashes,this set is natural set,so for daily use,work,really convenient. And the price for this 5pairs pack magnetic lashes set is .5-.5 per set.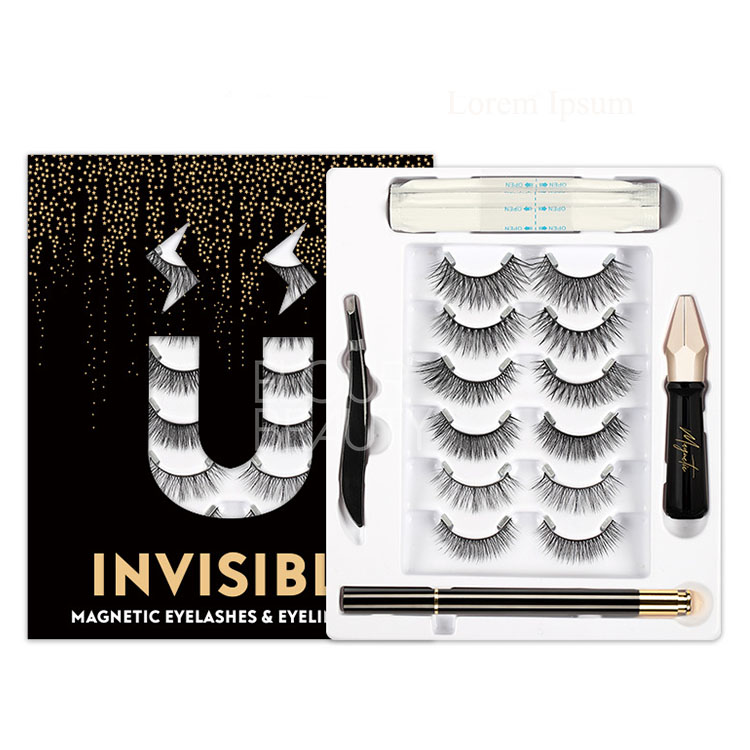 5.4 pairs pack new light best magnetic lashes 2021
This is 4pairs faux mink magnetic eyelashes,2light pairs and 2thick pairs,so they can used in different occasions.The lashes are in 6magnets each,and the magnets are small and light,but with 6magnets are with strong stickness.And 6magnetic lashes are easy to apply and remove.This 4pairs pack is with 1lash applicator with brush,can brush the lashes and the brows,and 1 magnetic eyeliner,and 1 mascara brush,very convenient to use.
The lashes are made by the high quality faux mink hairs with cotton lash band,and the lash band although is with magnets on them,is also soft and flexible.And the faux mink materials have the natural mink hairs natural looking,light weight and soft,and are vegan and cruelty free,so no one will reject them.So you can promote to any users.They will use them all.
And for this 4pairs pack magnetic eyelashes set,we have 2 kinds package boxes,paper box and the luxury magnetic box,you can choose as you like.And our stock boxes are low price.You also can do your private logo package boxes,we do free design.
This 4pairs magnetic lashes set have daily natural used ones and also party ones,very practical.And this set is .9-.6 per set for the paper box set,and is .5-.5 per set for luxury magnetic boxes.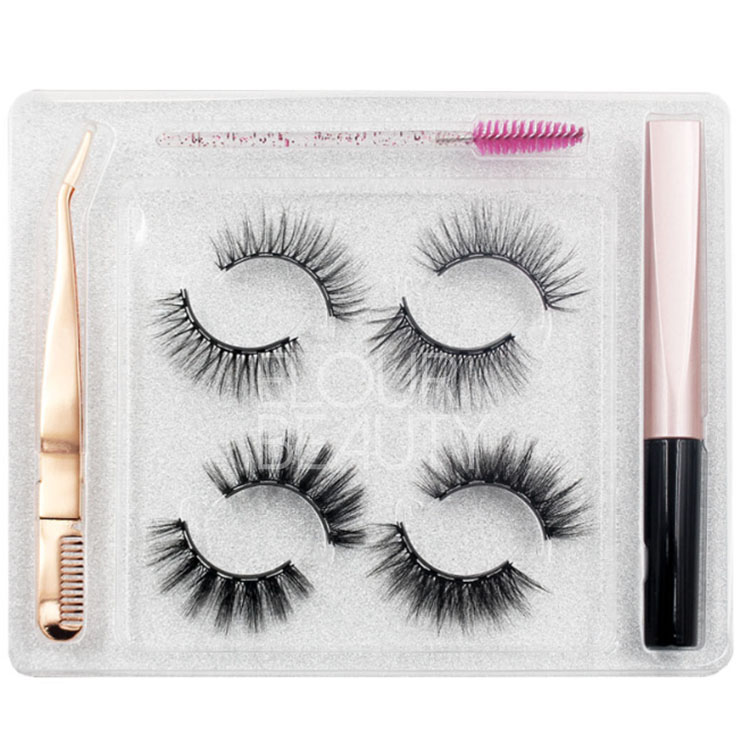 6.Magnetic lashes with 10small anchors best magnetic eyelashes
This is one pair magnetic lashes with 5magnets each lash,and there are also 10 very small anchors,can help to wear the magnetic eyelashes.There are also one magnetic eyeliner to wear the magnetic lashes.And also can use the 10 small anchors to wear the magnetic eyelashes and the anchors are really useful.The lash style is cross crip style and shorter at 2 sides and longer at middle..And the high quality paper boxes with no logo,can suit for any of you.
This magnetic lash is made by the soft faux mink hairs,100% vegan and cruelty free.This is 1pair magnetic lash,easy and simple but so special,so really attracting.And when you add this style magnetic lashes with the anchors,will give your users more choices,and will make your lashes unique,different from others.
And this magnetic eyelashes,any style can make as this pack,really nice and convenient to use.And the cost for this is .6-.2.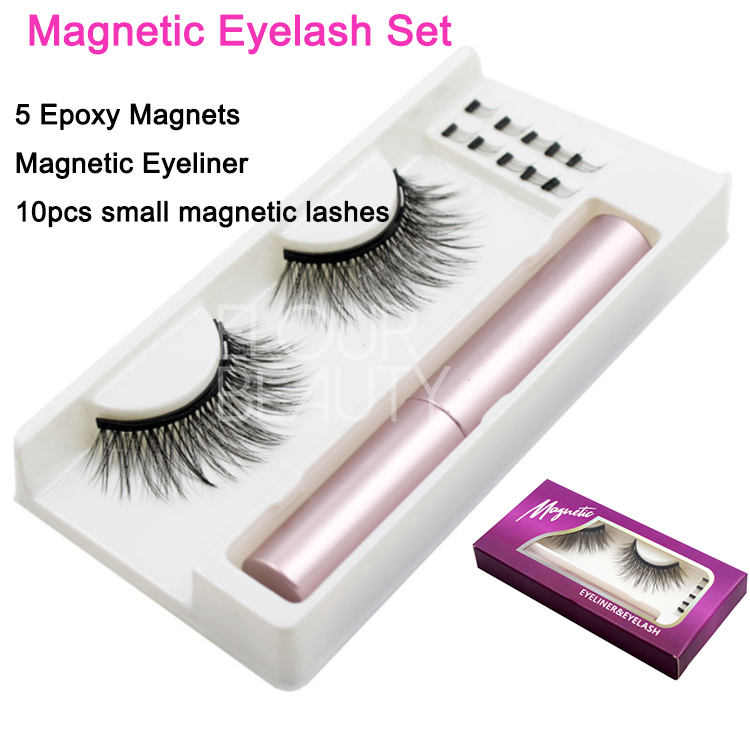 7.Brown magnetic eyelashes with brown magnetic eyeliner the popular and best magnetic lashes 2021
The brown magnetic eyelashes with brown magnetic eyeliner are the new magnetic lashes in 2021.The lashes are made by the faux mink brown colored hairs,this lash style is 6big columns with some small hairs,and this brown magnetic lash is with a brown color magnetic eyeliner.That is new and really different special ones,really hot and is one of the best magnetic eyelashes in 2021,and will be the hot selling magnetic lashes in 2022.
This pack is the 1pair single pack with 1 brown magnetic lash,1 brown magnetic eyeliner,and 1 magnetic box with no logo.And also can do your own logo private label boxes,customized.
This brown magnetic lashes we have about 10styles for choices,they are really less in the market,so really customers like them.And good selling for them.The faux mink lash hairs are soft and light weight,natural feeling and also different lash styles for choices.And really a good lash product for you,easy to get the end users like.
The brown magnetic eyelashes with brown magnetic eyeliner,can use in any different occasions,daily use,at work,party,celebrations,etc.And the price is about .4-.9.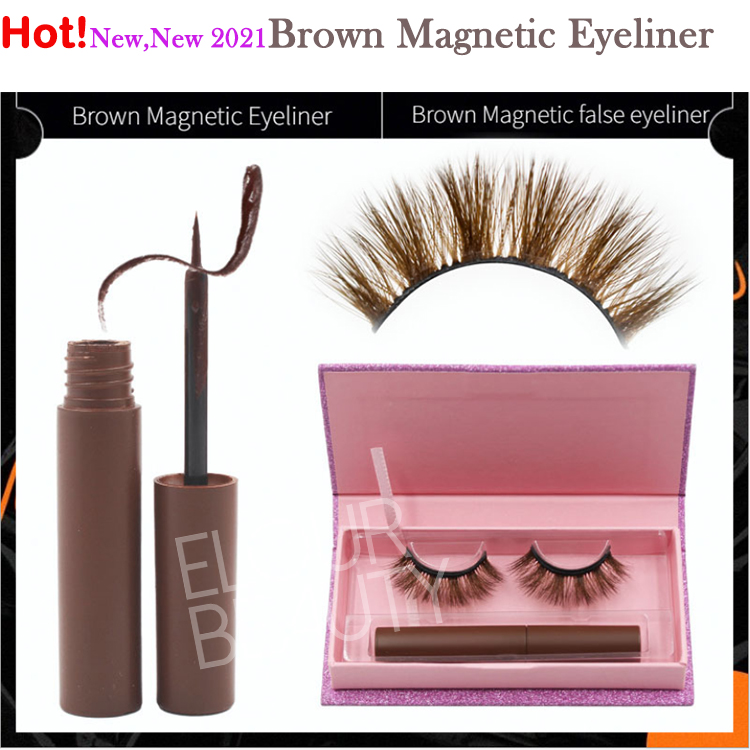 8.5D fluffy real mink lashes magnetic eyelashes
These are 5D fluffy mink eyelashes made into magnetic lashes,with 5magnets on each piece.There are 3 different mink magnetic lashes,each of them are about 22mm in hair length,and also can customized lash length as need.The 3pairs 5D magnetic lashes are packed in the clear circle lash trays,with 5magnets on each lash,they have small crip cross one,have natural style and also a bold glam style,give you different choices.And almost all of our 5D fluffy mink lashes can make into the magnetic lashes as need,we do customize for you.
The real mink hairs are soft,light weight,long lasting,and also natural hairs have the extreme fluffy looking.Almost all of the lashes users like real mink lashes,so they like the real mink magnetic lashes,too.The 5D real mink lashes magnetic lashes are the best lashes in 2021,and also will be the best lashes in 2022.
When you have these lashes,your followers will really to try them and like them,they are so easy to use,and reusable and long lasting,you will have a really good selling.That has been proofed by our customers they ordered them.They ordered again and again in a very short period from us.
These 5D fluffy mink lashes are the luxury lashes,can wear at any occasion,no matter what occasion,when you wear them,you will be the very shiny star.And these fluffy mink magnetic lashes cost is about .8-.2.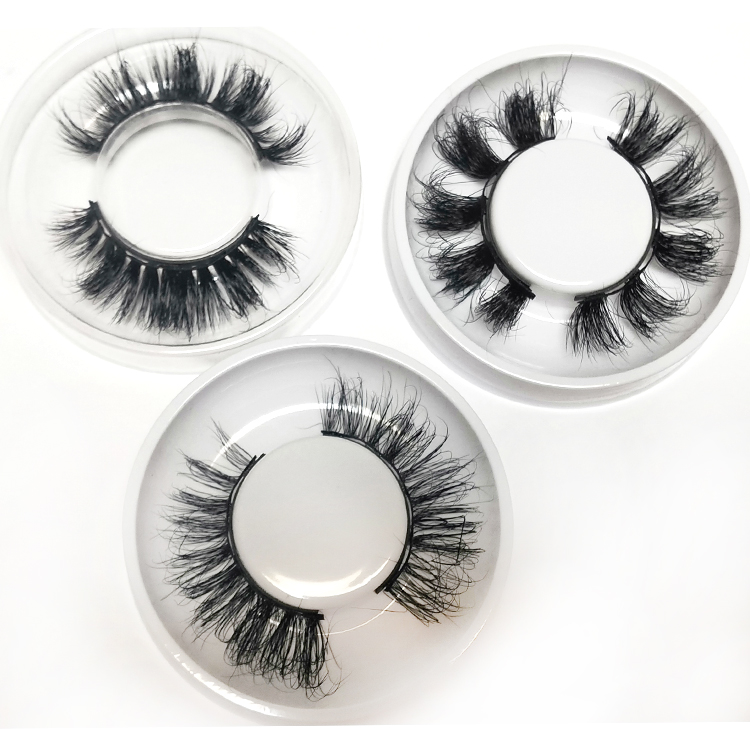 These above all are all the best magnetic eyelashes in 2021,and they will become the best magnetic lashes in 2022,too!