Wholesale eyelash extensions supplies
Production Description

| | |
| --- | --- |
| Product Name | Wholesale eyelash extensions supplies |
| Material | Korean pbt fibers |
| Curl | B,C,CC,D,DD,J,L |
| Thickness | 0.03,0.05,0.07,0.10,0.12,0.150.20,0.25mm |
| Length | 8-15mm |
| Techinique | Hand made |
| Color | Natural Black |
| MOQ | 20trays per size |
| Samples | Accepted |
| Package | Custom package is available |
| OEM,ODM | Available,and we do wholesale with your private label packages |
| Payment Terms | T.T,Paypal,Western Union,Money Gram |
| Shipment Terms | By Sea,Air or Express |
| Delivery Time | 15-20 working days as your order details,5-7days if stocked |
Wholesale eyelash extensions supplies
Eyelash extensions include many different kinds,from the big scope,there is invididual eyelash extensons and premade fans eyelash extensions。And both of these two eyelash extensions have contains their own different ones.For the individual eyelash extensions,usually have real mink eyelash extensions,mink eyelash extensions,faux mink eyelash extensions,silk eyelash extensions,easy fan lash extensions,camellia lashes extensions,ellipse flat eyelash extension,raser lash extensions and colored eyelash extensions.All our eyelash extensions are made by the highest materials,and with standard curl,thickness and length,and during the manufacturing,we have the inspector to inspect always,pick up the not good ones,so all our customers get are the high quality eyelash extensions.And our manufacturing technology is mature,our lash extensions curl can last more than 1 years,and high temperature resistant.Quality guaranteed.
Wholesale eyelash extensions lashes refer to the practice of purchasing a bulk quantity of individual lash strands, typically
made from synthetic or natural materials, for professional use or resale. These lashes are designed to enhance the length,
thickness, and curl of natural eyelashes and are commonly used in the beauty and cosmetics industry. Here's an explanation
of wholesale eyelash extensions lashes:
Eyelash Extensions Lashes: Eyelash extensions are individual lash strands that are adhered to the natural eyelashes using a

special adhesive. They are available in various lengths, thicknesses, curls, and materials (synthetic, silk, mink, etc.). Lash
extensions create the appearance of fuller and longer lashes, eliminating the need for mascara.
Wholesale: Wholesale refers to the purchasing of products in large quantities directly from a supplier or manufacturer. This

buying method often comes with discounts, allowing businesses or professionals to obtain products at a lower per-unit cost.
Here's how the process of purchasing wholesale eyelash extensions lashes typically works:

Select a Supplier: Businesses or professionals looking to purchase wholesale lash extensions lashes first identify a reputable

supplier or manufacturer. These suppliers specialize in producing and distributing lash extension products.
Choose Lash Specifications: Buyers can choose from a range of lash specifications, including length, curl type (J-curl, C-curl,

D-curl, etc.), thickness, and material. The selection depends on the preferences of clients or the target market.
Place Bulk Order: A bulk order is placed with the supplier, specifying the quantity and specifications of the lash extensions

lashes needed. Minimum order quantities (MOQs) may apply, depending on the supplier.
Receive Bulk Shipment: Once the order is processed, the buyer receives a shipment containing the bulk quantity of lash

extensions lashes. These lashes are typically packaged in trays, boxes, or other suitable containers.
Benefits of purchasing wholesale eyelash extensions lashes include:

Cost Savings: Buying in bulk usually results in cost savings per lash, making it more economical for professionals and

businesses.
Sufficient Inventory: A bulk supply ensures a consistent and sufficient inventory of lash extensions for use on clients, reducing

the need for frequent reordering.
Customization: Buyers can choose lash specifications that align with their clients' preferences and the specific services they

offer.
Convenience: Wholesale orders can be tailored to meet the specific needs of lash artists, beauty salons, or retailers, ensuring

they have the right lash extensions on hand.
It's crucial to work with reputable suppliers or manufacturers known for producing high-quality lash extensions that meet safety and hygiene standards. Additionally, lash professionals should undergo proper training to ensure the safe and skillful

application of lash extensions, and they should follow recommended maintenance and aftercare procedures for clients.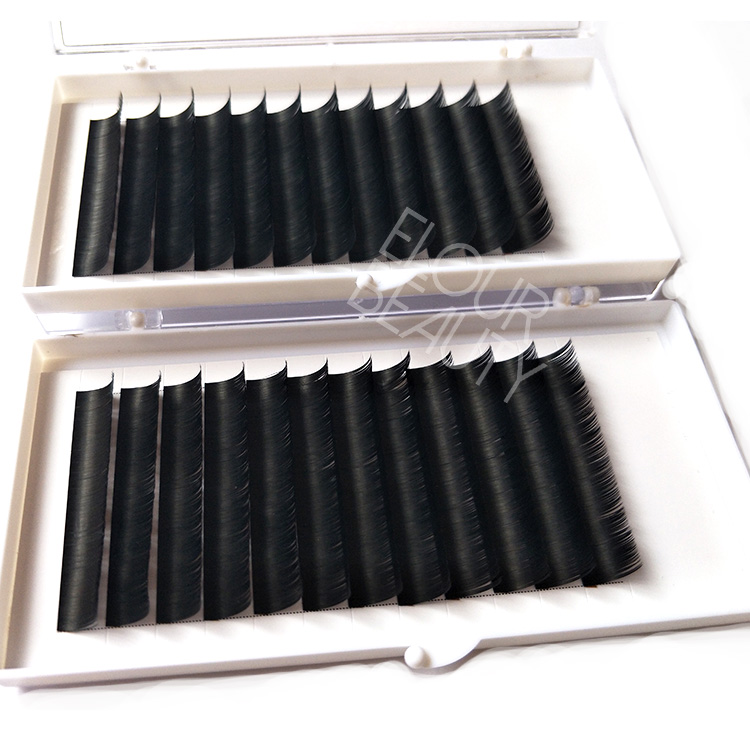 This is the ellipse flat eyelash extensions,matte black color,12lines each tray.And this flat eyelash extensions,have regular flat eyelash extensions and split tip ellipse flat eyelash extensions,the split tip ones are more softer.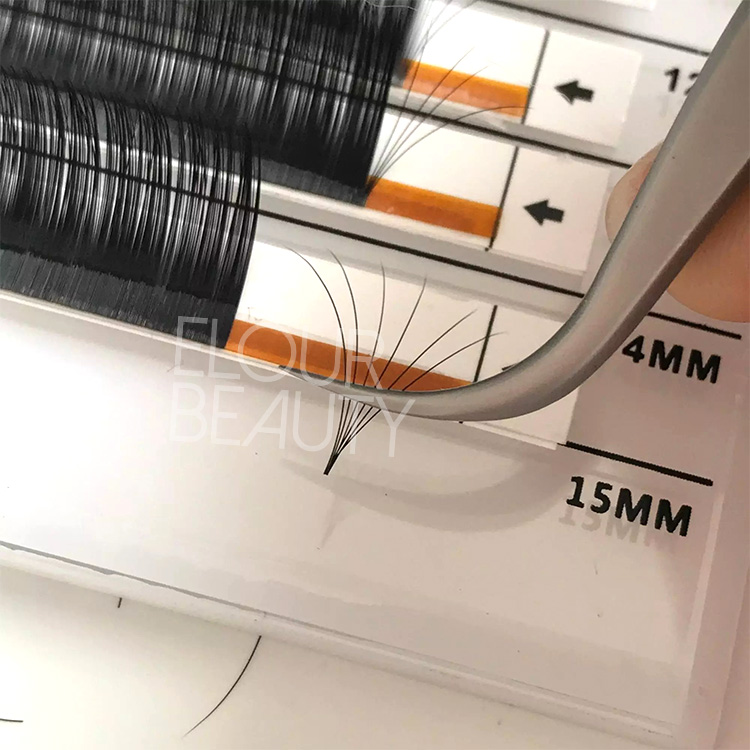 This is the easy fan,aslo named auto blooming,one second blossom eyelash extensions,really volume each strips and these ones are in 12mm,13mm,14mm length.And really easy to make the fans when take from the strips.Easy to use,good quality,long lasting and saving time.
For the premade fans eyelash extensions,we have long stem eyelash extensions,short stem eyelash extensions,2D,3D,4D,5D,6D,7D,8D,9D,10D,20D,glue bonded,heat boned,YY lash extensions,A shape lash extension,fairy tail eyelash extensions,fish tail lash extensions,etc.We do 3lines trays,12lines,also do XL trays in 320pieces each tray,customized do as your need.And each our fans eyelash extensions are have good fans and good root,easy to apply for,and long lasting.We supply all these kinds of eyelash extensions and we only supply high quality ones.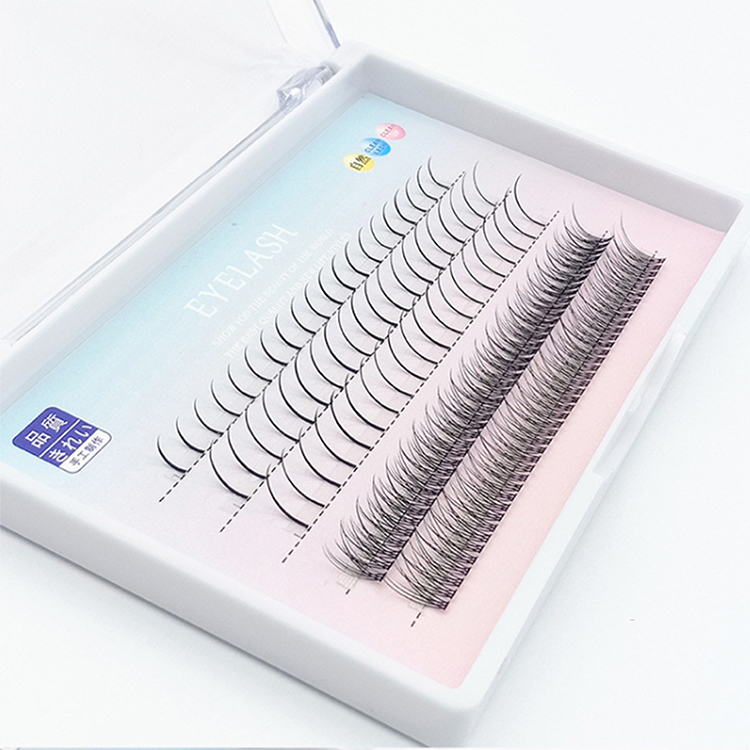 The fairy eyelash extensions with the fish tail eyelash extensions,give you the different looking,so special.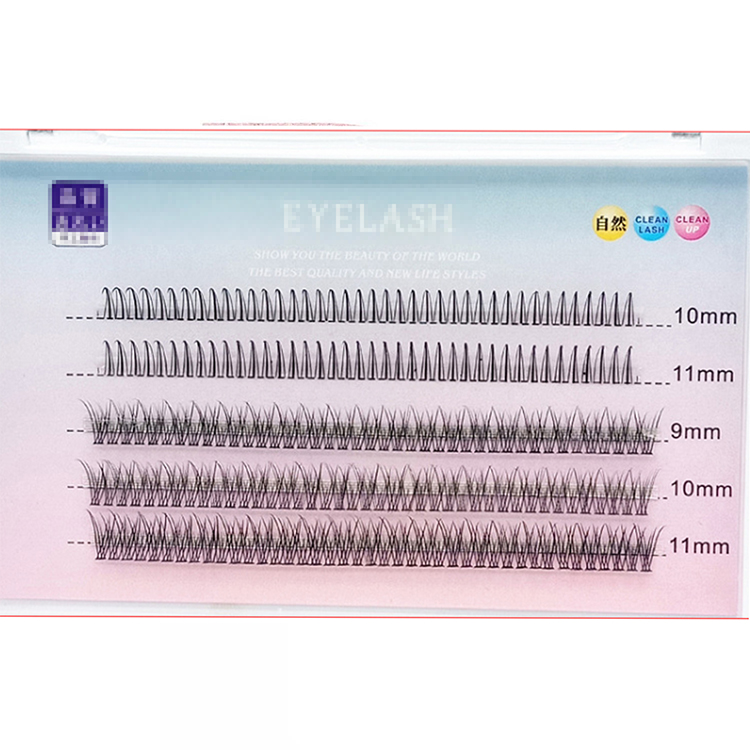 This is the A shape eyelash extensions with the fish tail eyelash extensions,the best combination when grafting.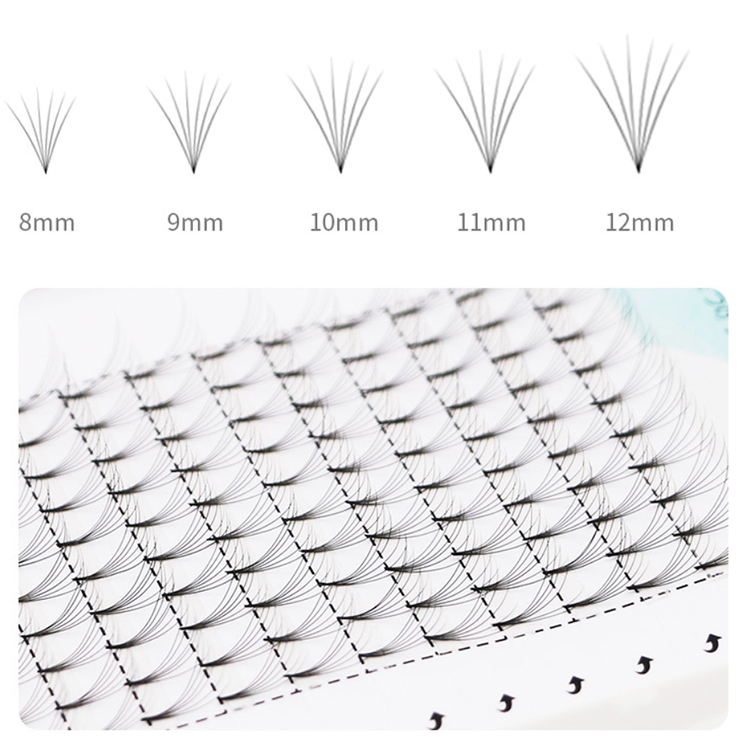 The regular premade fans eyelash extensions 6D lash,short stem,each lines have 10pieces,and 12lines each tray.Each piece is 6hairs,same length with C curl.Also can do mixed length as need,and customized package.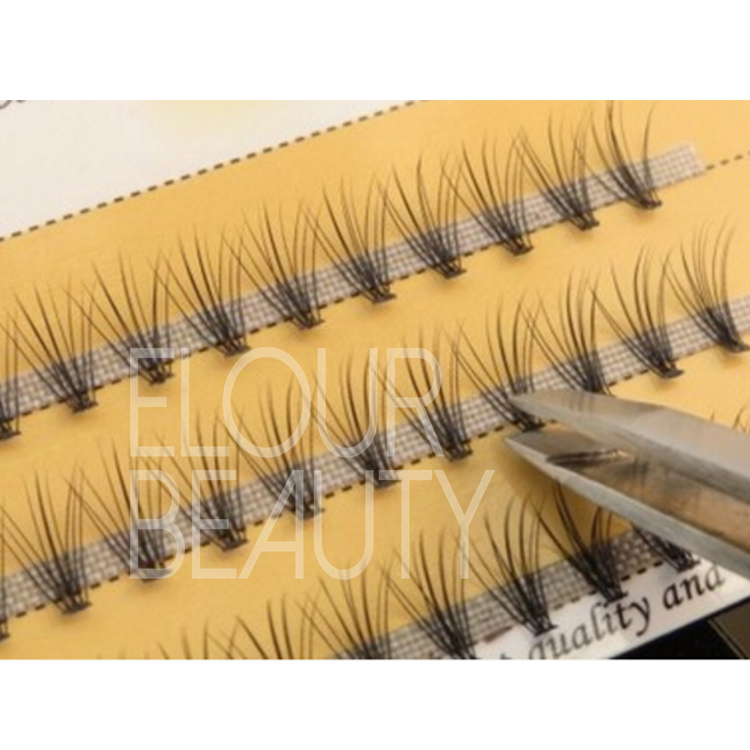 10D heat bonded eyelash extensions,such kind also have 20 heat bonded eyelash extensions,and these lash extensions are suit for DIY,you can do the lash shape as you like at home,easy to use,reusable,so popular.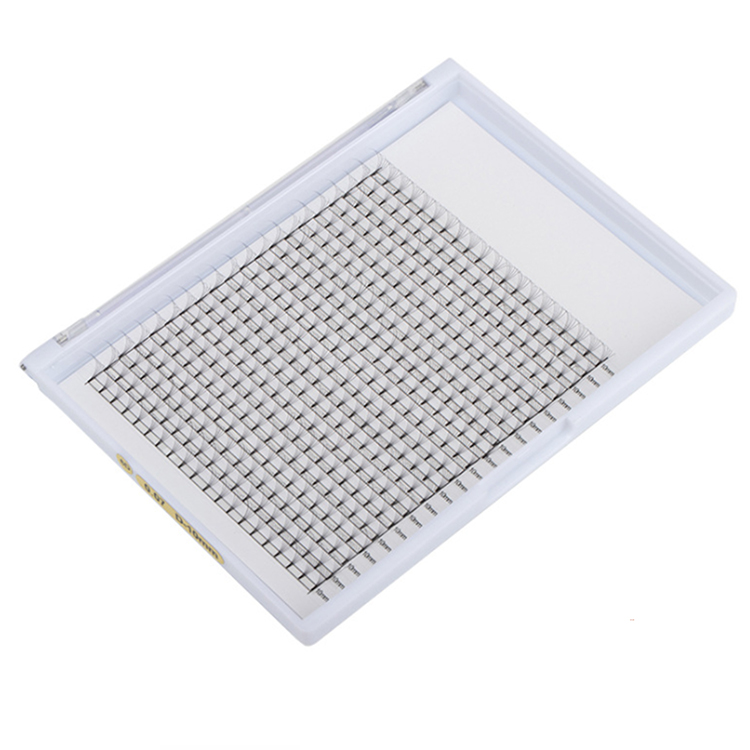 The XL trays of premade fans eyelash extensions,320pieces volume tray.Customized package as need.
We are the professional eyelash extensions supplier,and China eyelash factory direct supply,and we do wholesale in big quantity at wholesale price.We have more than 100workers in mass production for the best quality eyelash extensions,and do large stock and fast shipment.
FAQs for Wholesale eyelash extensions supplies:
1.What are wholesale eyelash extension supplies?
Wholesale eyelash extension supplies are bulk quantities of products and tools used for applying, maintaining, and removing
eyelash extensions. These supplies are typically purchased by beauty professionals or businesses at discounted prices.

2.Why choose to buy eyelash extension supplies wholesale?
Buying wholesale allows professionals and businesses to obtain a larger quantity of high-quality lash extension materials at a
lower cost per unit, ensuring a steady supply for clients.

3.What types of products are included in wholesale eyelash extension supplies?
Wholesale supplies can include lash extensions, adhesive (lash glue), tweezers, eye pads, lash cleansers, brushes, and various
tools and accessories used in the lash extension process.

4.Can I customize my order when purchasing wholesale supplies?
Yes, many suppliers offer customization options, allowing buyers to select specific lash extension styles, lengths, curls, and
adhesive types based on their client preferences and business needs.

5.Are there minimum order requirements for wholesale purchases?
Many wholesale suppliers have minimum order quantities (MOQs) that buyers must meet to qualify for wholesale pricing.
MOQs can vary by supplier and product.

6.How can I find reputable suppliers for wholesale eyelash extension supplies?
You can find reputable suppliers through online research, industry trade shows, referrals from colleagues, and beauty product
directories. Reading reviews and checking for certifications can also help identify trustworthy suppliers.

7.Can I receive samples of products before making a wholesale purchase?
Some suppliers offer sample packs or individual product samples for testing before committing to a wholesale order. Inquire
with the supplier about sample availability.

8.What is the shelf life of eyelash extension supplies purchased in bulk?
The shelf life of supplies can vary by product and brand. Typically, unopened adhesive and lash extensions have a longer
shelf life, while products like lash cleansers and eye pads may have shorter expiration dates.

9.Are there safety considerations when using wholesale eyelash extension supplies?
Yes, safety is crucial. Professionals should undergo proper training to ensure the safe and hygienic application of lash
extensions. Adhere to sanitation protocols and conduct patch tests to check for allergies or sensitivities.

10.Can I resell eyelash extension supplies purchased wholesale?
Yes, many professionals and businesses choose to resell some of the supplies they purchase wholesale, creating an additional
revenue stream.