Private label Magnetic eyelashes with Eyeliner
Magnetic eyelashes are always in The development of magnetic eyelashes has experienced five generations,1st-upper and bottom clip magnetic eyelashes,2nd-upper and bottom clip magnetic eyelashes,3rd-Magic eyeliner pencil magnetic eyelashes,4th-Quantum magnetic lashes,5th-Invisible magnetism eyelashes.
Private label magnetic eyelashes with eyeliner are cosmetic products designed to enhance the appearance of the eyes by providing the look of fuller and longer lashes without the need for traditional lash glue. These products are labeled as "private label" when they are manufactured by a company and then customized with your branding, logo, or label, allowing you to create your own branded line of magnetic eyelashes and eyeliner.
Here's an explanation of each component:
Magnetic Eyelashes: Magnetic eyelashes consist of two strips of false eyelashes for each eye, which are equipped with tiny magnets. Unlike traditional false lashes that require adhesive glue, magnetic lashes adhere to each other using the magnetic attraction between the strips. This eliminates the need for messy glue application and ensures a secure hold.
Eyeliner: The eyeliner included in the set is formulated with magnetic particles. When applied to the eyelids, this magnetic eyeliner serves as the anchor for the magnetic lashes. The magnetic eyelashes attach to the eyeliner due to the magnetic properties in the liner, creating a strong and stable hold.
Here's how the process typically works:
You apply the magnetic eyeliner along your upper lash line, just like you would with regular eyeliner.
Once the magnetic eyeliner has dried, you can attach the magnetic eyelashes by gently placing them along the lash line. The magnetic attraction causes the lashes to adhere to the eyeliner, holding them securely in place.
Benefits of private label magnetic eyelashes with eyeliner include:
Ease of Use: They are relatively easy to apply compared to traditional lash glue, making them suitable for individuals who may have difficulty with lash adhesive.
Reusable: Magnetic lashes and eyeliner can be reusable, as long as they are properly cared for and cleaned after use.
No Mess: You don't need to worry about messy glue or the potential for glue-related mishaps.
Customization: You can customize the packaging and branding of magnetic lashes and eyeliner to match your beauty or cosmetics brand.
Comfort: Magnetic lashes often feel more comfortable to wear compared to traditional strip lashes with glue.
Secure Hold: When applied correctly, magnetic lashes provide a secure hold throughout the day without the risk of them coming loose.
Private labeling magnetic eyelashes with eyeliner allows you to offer a unique and branded product to your customers. It's essential to choose a reputable manufacturer or supplier experienced in producing quality magnetic eyelash and eyeliner sets to ensure customer satisfaction and safety. Additionally, be aware of any regulations or guidelines related to cosmetics and beauty products in your region when selling these products.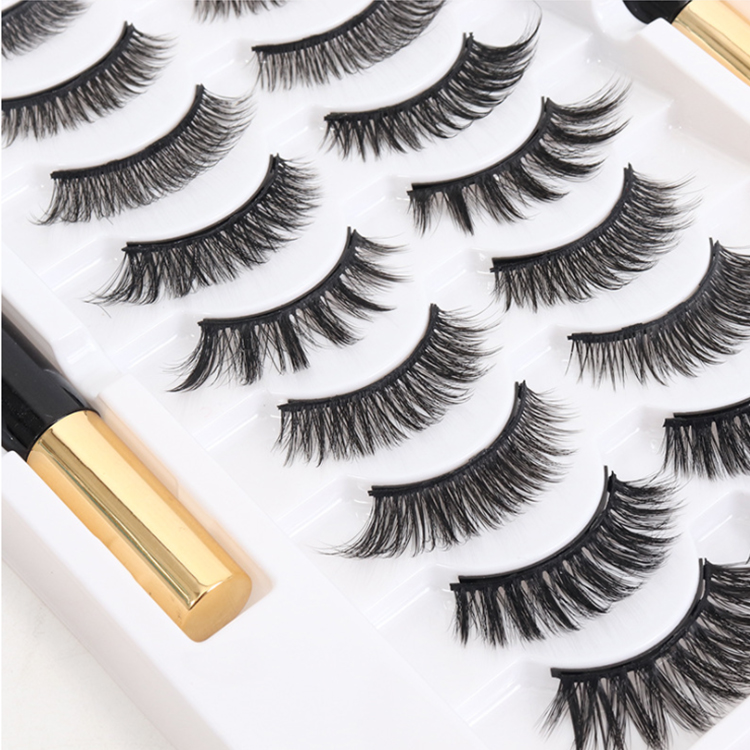 The magnetic eyelashes with magnetic eyeliner are really popular lashes and are always in using from the born.The magnetic eyelashes,only need to use 1piece of lash on each eye,and the eyelashes can be made with 5magnets,6magnets,8magnets and 10magnets on them.So the eyelashes become softer,and more comfortable,with strong stick.Many choices,not like before,only do 2magnetic lashes or 3magnetic lashes,And wear 1lash on each eye,more softer and more natural.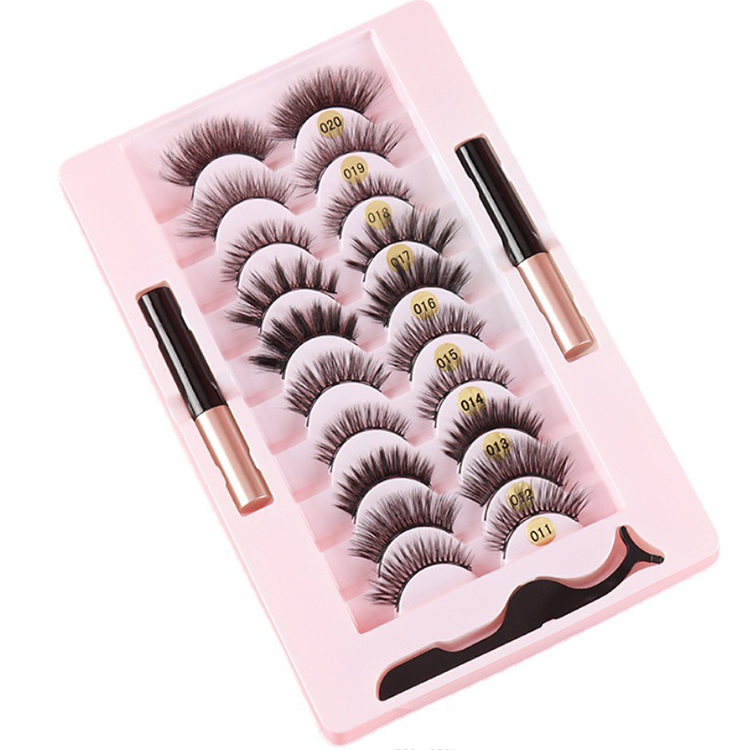 The magnetic eyelashes make the eyes liberated from the glues,even if no glue,also can wear the eyelashes,only draw an eyeliner,easily wear the lashes,and also is easily take off the lashes,and use the magnetic eyeliners,no destruction to the lashes,so the the magnetic eyelashes can last longer.And mostly the magnetic lashes can wear more than 60times,even if the magnets not good,but the eyelashes can still use.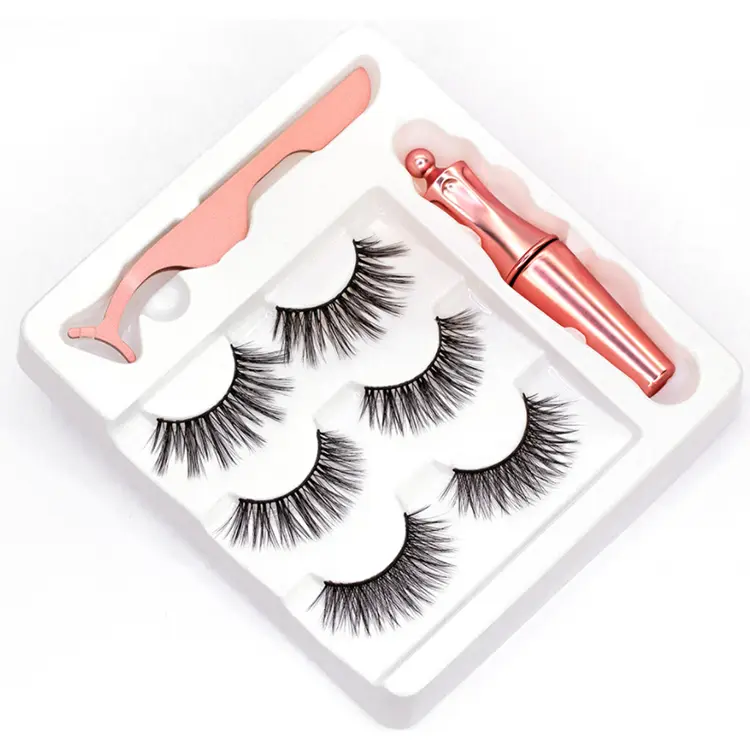 And we do different kinds of package for the magnetic eyelashes,also do the magnetic lashes with eyelash tweezer,magnetic eyeliner set.And can do 1pair magnetic eyelash set,2pairs magnetic eyelashes set,3pairs magnetic eyelashes set,4pairs,5pairs,6pairs,7pairs,even if 10pairs magnetic lashes set.To do a set,the price is much lower.We have the set package box with no logo,and also can do your private label package,and that kind you have your own logo magnetic lashes,and the customers are easily to find you,and the private label package also can establish your own customer group and you will have
your own term fans.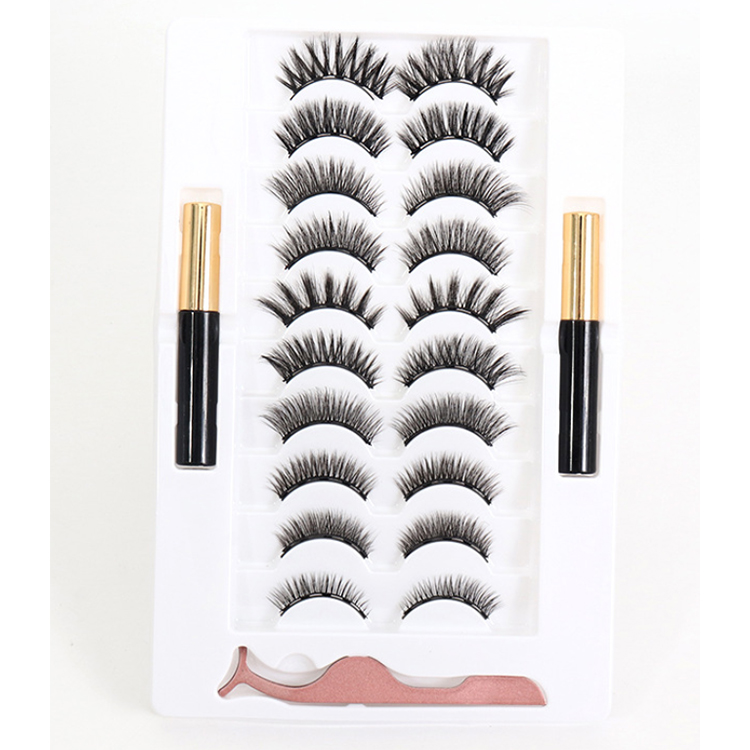 FAQs for private label magnetic eyelashes with eyeliner:
1.What are private label magnetic eyelashes with eyeliner?
Private label magnetic eyelashes with eyeliner are cosmetic products designed for enhancing eyelashes. They consist of
magnetic eyelashes and a magnetic eyeliner that work together to provide a secure and glue-free lash application.

2.How do magnetic eyelashes with eyeliner work?
Magnetic eyelashes feature tiny magnets along the lash strips, and the magnetic eyeliner contains magnetic particles. When
the magnetic eyeliner is applied to the eyelid, it creates a magnetic surface for the lashes to adhere to, holding them in place
without the need for traditional lash glue.

3.Are private label magnetic eyelashes with eyeliner easy to apply?
Yes, magnetic eyelashes with eyeliner are often considered easier to apply than traditional false lashes with adhesive glue.
Many users find them more convenient and less messy.

4.Can I reuse magnetic eyelashes with eyeliner?
Yes, magnetic eyelashes and eyeliner can be reusable with proper care. Gently clean and remove any residual eyeliner or
mascara from the lashes after each use to maintain their longevity.

5.Are magnetic eyelashes with eyeliner safe for my eyes?
Magnetic eyelashes with eyeliner are generally safe when used as directed. However, if you have sensitive eyes or are prone
to allergies, it's advisable to check the ingredients and do a patch test before use.

6.Do I need to purchase a specific magnetic eyeliner for use with these lashes?Magnetic eyelashes are typically designed to work with specific magnetic eyeliners provided in the set. Using a compatible
magnetic eyeliner ensures a strong and secure hold.
7.Can I wear magnetic eyelashes with eyeliner all day without them coming off?
When applied correctly, magnetic eyelashes with eyeliner can stay in place throughout the day. However, it's essential to avoid
rubbing or tugging at them to maintain their hold.

8.Can I apply magnetic eyelashes with eyeliner on my lower lash line?
Magnetic eyelashes are primarily designed for the upper lash line. Applying them to the lower lash line can be more
challenging due to the magnetic liner's placement.