Private label magnetic eyelash kit by eyelash manufaturer uk
We have different magnetic eyelashes,1magnet lash,2magnets lash,3magnets lashes,5magnetis eyelashes,6magnets eyelashes,and now 10magnets eyelash.Although is 10magnets on each strip lashes,the magnets is really small,no weight at all.With the high quality magnetic eyeliner,the magnetic eyelash kit is super excellent.And strong stick,really like by UK buyers,and big need in UK.
A "Private label magnetic eyelash kit by eyelash manufacturer in the UK" refers to a specific cosmetic product and business
arrangement. Let's break down this term:

Private Label: "Private label" means that a cosmetic product is produced by one company (in this case, an eyelash manufacturer
in the UK) and then sold or distributed under another company's brand or label. Essentially, you can purchase these magnetic
eyelash kits and brand them as your own.

Magnetic Eyelash Kit: A magnetic eyelash kit typically includes a set of false eyelashes that adhere to the eyelids using small
magnets instead of traditional adhesives. These kits often include multiple lash styles, magnetic applicators, and storage cases.

Eyelash Manufacturer: An eyelash manufacturer is a company that specializes in producing eyelash products, including false
eyelashes, eyelash extensions, and related accessories. In this context, the manufacturer is based in the UK.

UK: This indicates that the eyelash manufacturer and the product are based in the United Kingdom.

In summary, a "Private label magnetic eyelash kit by eyelash manufacturer in the UK" refers to a cosmetic product consisting
of magnetic eyelashes, accessories, and tools. These products are produced by an eyelash manufacturer in the UK and can be
purchased for private labeling, allowing other companies or individuals to brand and sell them under their own labels or
brands. This arrangement is common in the beauty and cosmetic industry, allowing for customization and branding without
the need for in-house manufacturing.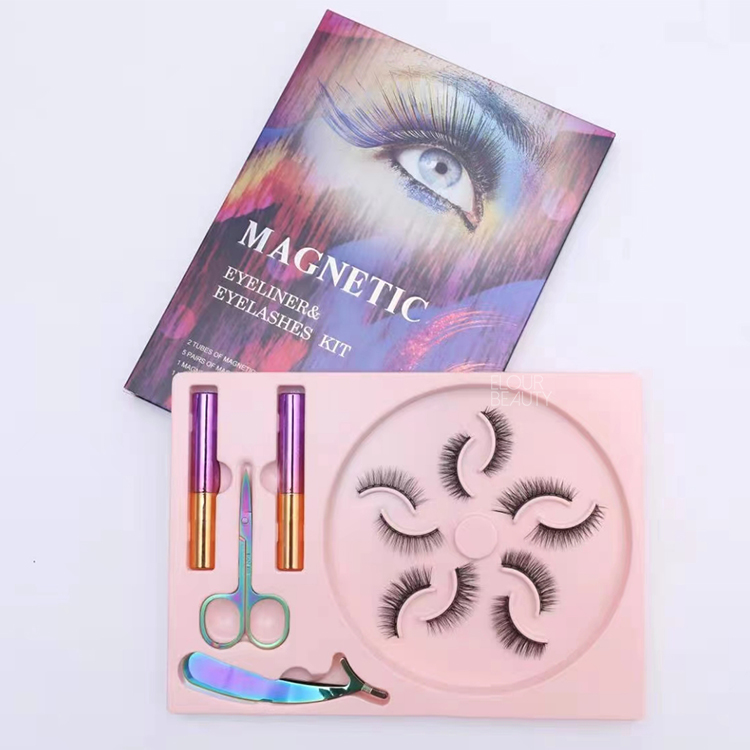 The magnetic eyelashes kit,5pairs magnetic lashes in the flower shape tray,really beautiful.2magnetic eyeliners,1 scissor and 1 lash applictor,with our package box,also can do private label package boxes.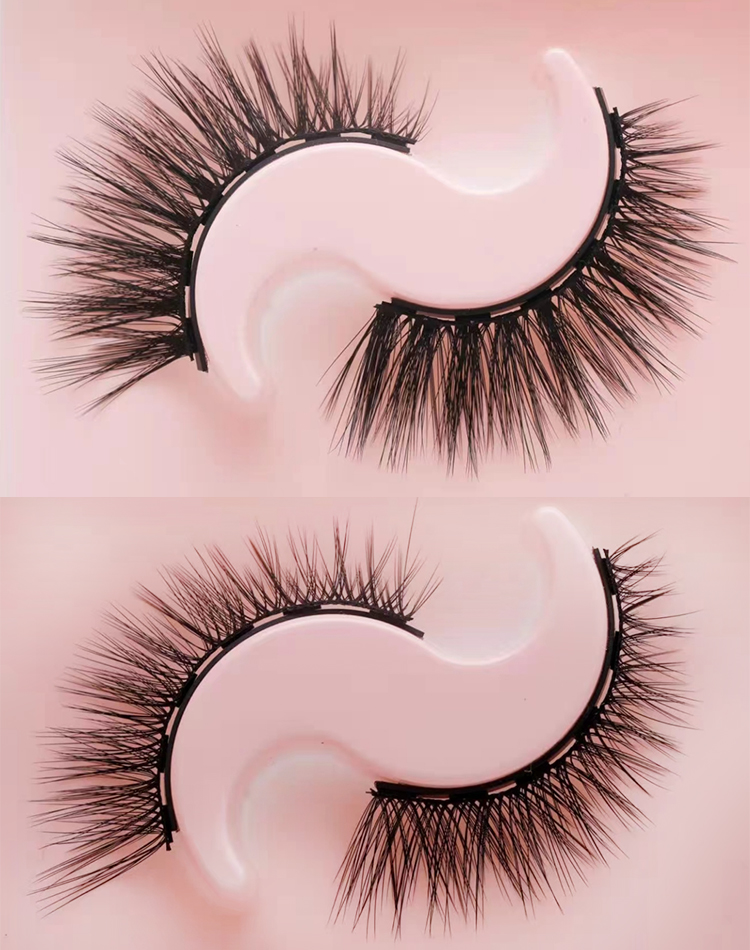 The clear picture of the magnetic eyelashes,6magnets on each strip,with light weight small magnets,so lashes is no burden,but strong stick,really hot selling and liked by the users in UK.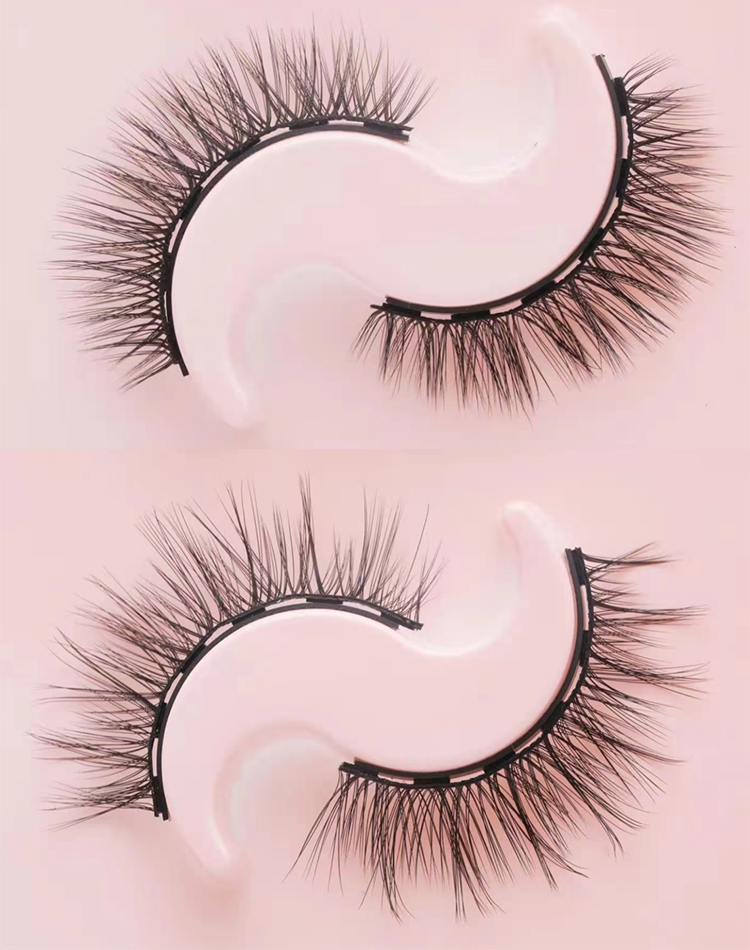 The criss cross styles each,short to long from inside to outside,also have circle shape,for different choices,all these 2styles are liked by UK users.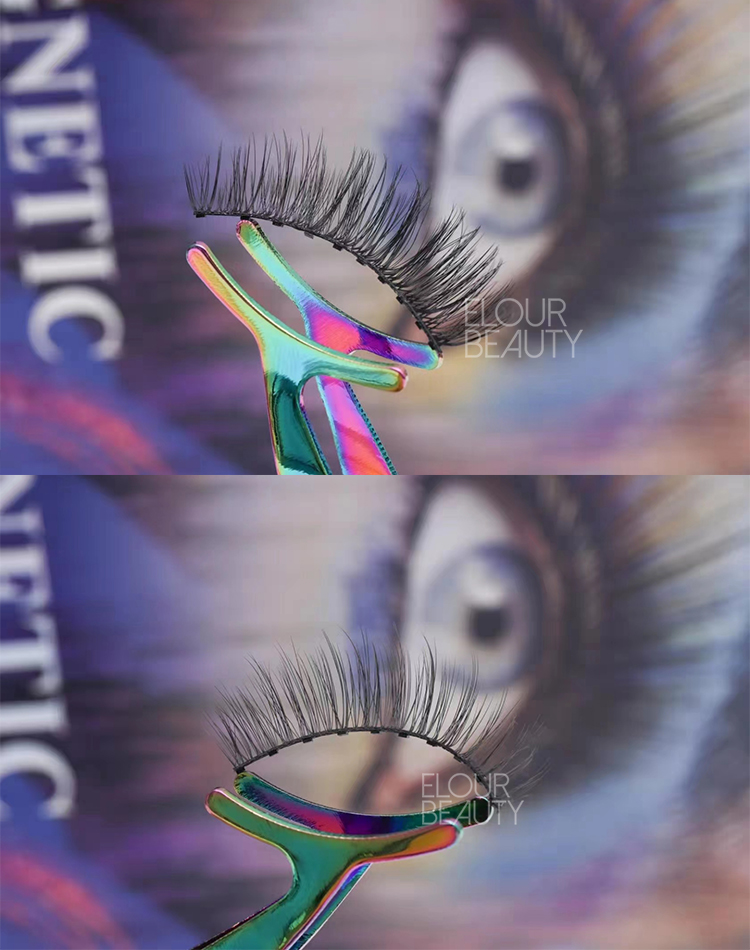 FAQs for magnetic eyelashes with magnetic eyeliner kit:
1. What is a Private Label Magnetic Eyelash Kit?
Answer: A Private Label Magnetic Eyelash Kit is a cosmetic product that includes magnetic false eyelashes, often in various
styles, along with applicators and storage cases. These kits can be purchased by businesses or individuals and branded with
their own labels for resale.

2. How does the magnetic eyelash system work?
Answer: Magnetic eyelashes feature tiny magnets along the lash strips. When you sandwich your natural lashes between
the upper and lower magnetic lash strips, they attach to each other, holding the magnetic lashes in place.

3. What are the advantages of using magnetic eyelashes?
Answer: Magnetic eyelashes are easy to apply, do not require traditional adhesive, and can be reused multiple times. They
are a convenient and mess-free alternative to traditional false lashes.

4. Can I customize the packaging and branding of the Private Label Magnetic Eyelash Kit?
Answer: Yes, one of the primary benefits of private labeling is the ability to customize the packaging and branding of the
kit to suit your brand's identity and preferences.

5. Are magnetic eyelashes safe to use for individuals with sensitive eyes or allergies?
Answer: Magnetic eyelashes can be a suitable option for individuals with sensitive eyes or allergies because they eliminate
the need for lash adhesive. However, it's essential to ensure the materials used are hypoallergenic.

6. How can I place an order for a Private Label Magnetic Eyelash Kit from the UK manufacturer?
Answer: To place an order, you can typically contact the manufacturer directly through their website or customer service.
They will guide you through the ordering process, including customization options and pricing.

7. What is the minimum order quantity (MOQ) for private labeling magnetic eyelash kits?
Answer: The MOQ can vary among manufacturers. It's advisable to inquire about the MOQ when discussing your specific
requirements with the manufacturer.

8. Do the kits come with instructions for application and care?
Answer: Yes, reputable manufacturers often include detailed instructions for applying and caring for the magnetic eyelashes
in the kits to ensure the best results.

9. Are there different lash styles and lengths available in these kits?
Answer: Yes, Private Label Magnetic Eyelash Kits usually offer a variety of lash styles and lengths to suit different preferences
and occasions.

10. What is the turnaround time for receiving a private label order of magnetic eyelash kits from the UK manufacturer?
- Answer: Turnaround times can vary based on the manufacturer's production capacity and your customization requirements.
It's best to inquire about estimated delivery times when placing your order.