Magnetic false eyelashes with magnetic eyeliner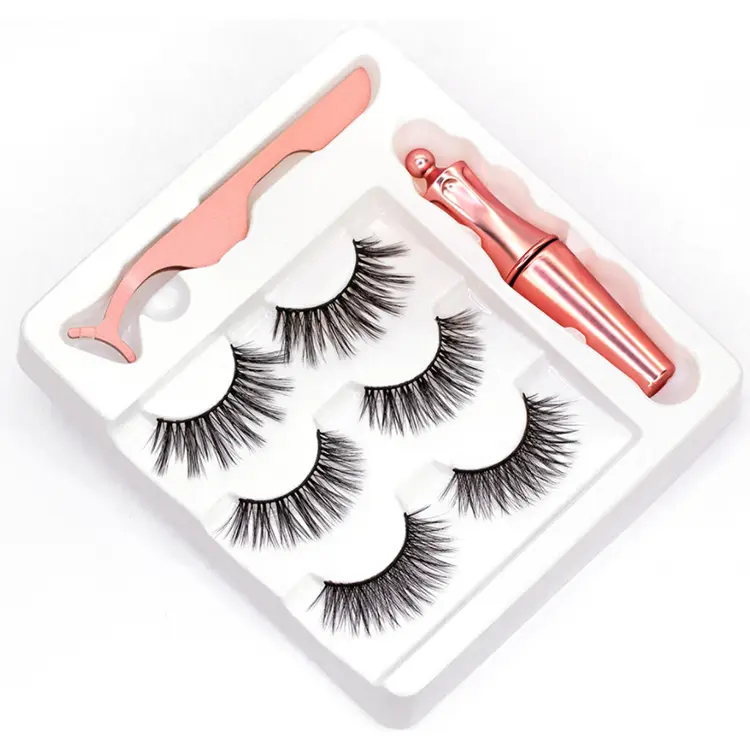 The magnetic eyelashes 3pairs per pack with a lash tweezer and a magnetic eyeliner on this set.The 3magnetic lashes are 3 different styles,give you different looking and loving.With the lash tweezer applicator and the magnetic eyeliner,it really easy and save time to wearing.The magnetic lashes and the magnetic eyeliners are all reusable to use.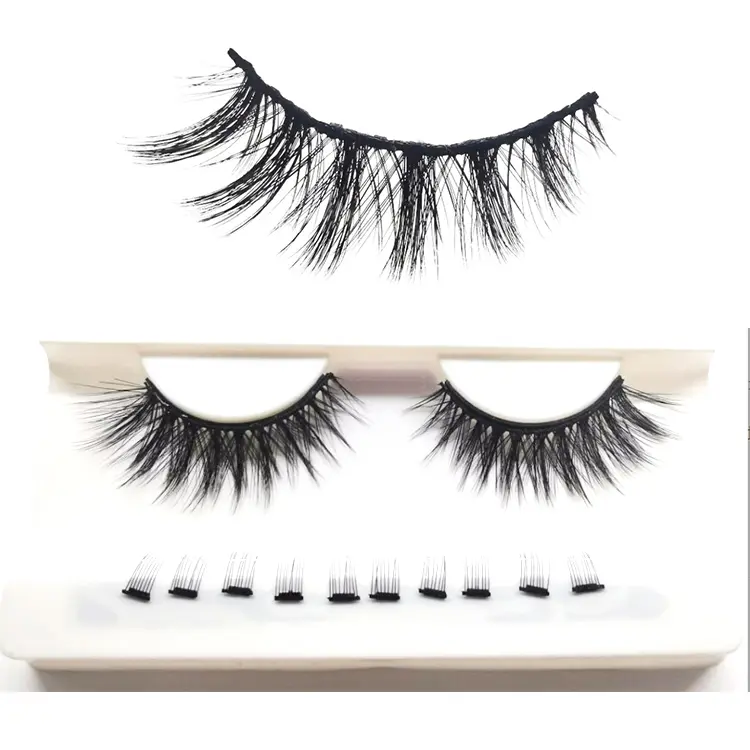 The magnetic eyelashes are with 10magnets on lashes,and you can use with magnetic eyeliner to wear,or use the magnetic anchors to wear,both are really easy and reusable.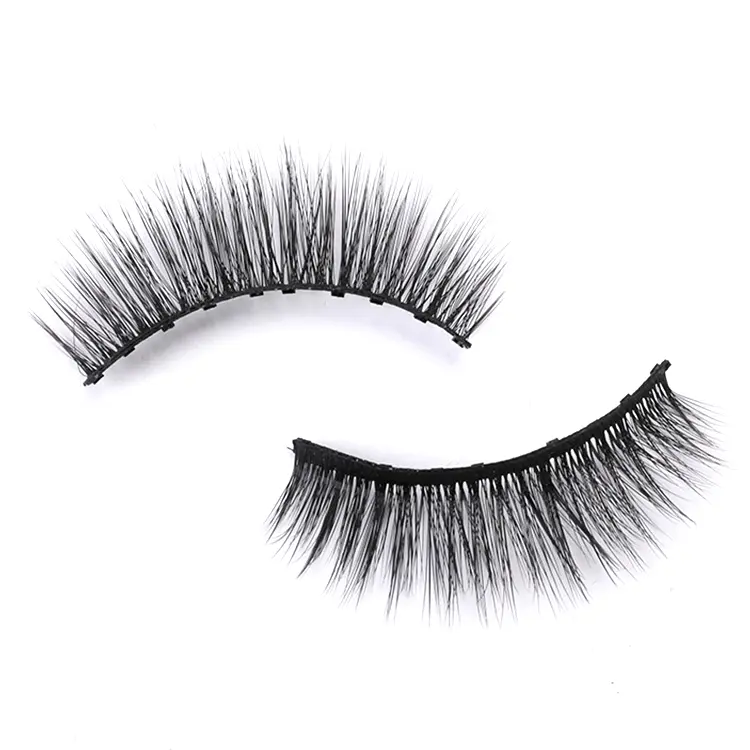 The magnetic eyelashes each lash is with 10magnets,the magnets are small and light weight,but 10mangets strong stick.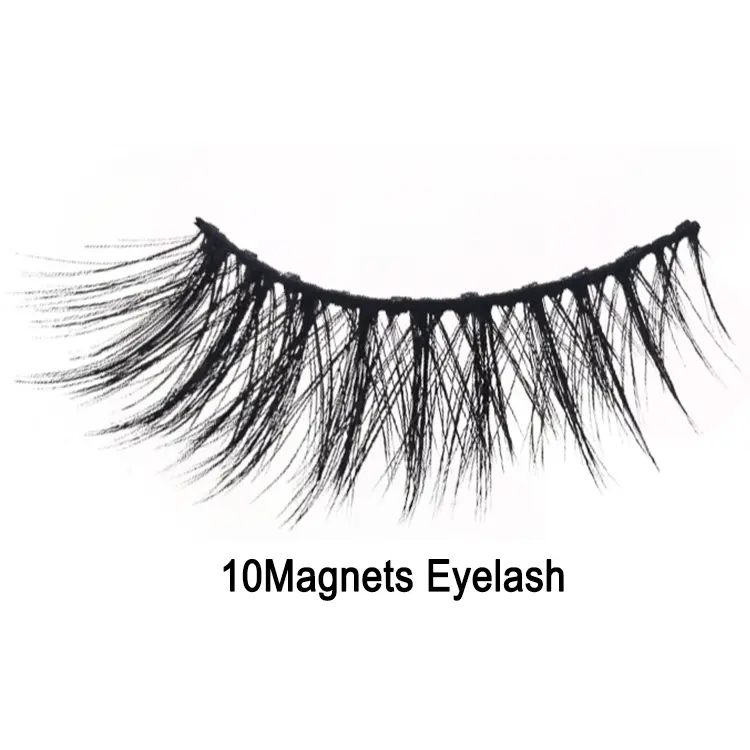 10magnets eyelashes,close looking,and you need to have a try,believe you will love it.
FAQs for Magnetic false eyelashes with magnetic eyeliner
1.How do magnetic false eyelashes work?
Magnetic false eyelashes are equipped with tiny magnets along the lash bands. They adhere to your natural lashes using
magnetic force, eliminating the need for traditional adhesives.
2.What is magnetic eyeliner, and how does it work with magnetic lashes?
Magnetic eyeliner contains iron oxide particles that are attracted to the magnets on the lashes. When you apply the magnetic
eyeliner along your lash line, it creates a strong bond with the magnetic lashes, keeping them securely in place.

3.Are magnetic eyelashes easy to apply?
Many people find magnetic eyelashes easier to apply than traditional adhesive lashes. However, it may take some practice to
get the hang of it. The magnetic eyeliner simplifies the process, as you don't need to deal with messy glues.
4.Can I reuse magnetic false eyelashes?
Yes, magnetic false eyelashes are typically reusable. With proper care and storage, you can use them multiple times.

5.Are magnetic lashes safe for my eyes?
Magnetic lashes are generally safe for your eyes when used correctly. However, be cautious not to apply them too close to
your eyeball. If you have sensitive eyes or any eye conditions, consult with an eye care professional before using them.

6.Do magnetic eyelashes damage natural lashes?
Magnetic lashes are less likely to damage your natural lashes compared to traditional lash extensions or glue-on lashes, as

there is no adhesive that can pull or weaken your lashes. However, excessive tugging or pulling when removing them can still
cause damage.
7.Can I wear magnetic lashes with glasses?
Yes, you can wear magnetic lashes with glasses. Just ensure that your glasses do not interfere with the lashes or cause

discomfort. Choose magnetic lashes that suit your eye shape and frame style.
8.How long do magnetic lashes stay on?
Magnetic lashes can stay on for most of the day, depending on the quality of the lashes and the magnetic eyeliner. They

should last throughout your regular daily activities.
9.Can I wear magnetic lashes during workouts or in humid conditions?
Magnetic lashes are generally secure but may not be ideal for intense workouts or extremely humid conditions. Excessive

sweat or movement can affect their adhesion.
10.How do I remove magnetic eyeliner and lashes?
You can remove magnetic eyeliner with a makeup remover specifically designed for waterproof or long-wear makeup. To
remove the lashes, gently slide them away from your natural lashes, taking care not to pull too hard.