Magnetic eyelashes kit with 10 magnets lashes vendor USA
We are the professional magnetic eyelashes manfacturer,vendor in China,and manufacture different kinds of magnetic eyelashes.And aways in deveoping new magnetic eyelashes for more comfortable,more beautiful,more lastable and more suitable.We are in mass production for the mangetic eyelashes,and what we are pursue for is good quality and not high price to let all of us can accept and bear for them.Our feather like 10magnetic eyelashes really get likes once have,now the most hottest lashes are the invisible magnetic eyelashes and 10magnets lashes.What you are hesitate for?You deserve the such excellent 10magnetic eyelashes!
Magnetic Eyelashes Kit: This is a beauty product that consists of magnetic eyelashes and accompanying accessories.
Magnetic eyelashes are a type of false eyelashes that use tiny magnets instead of adhesive to attach to the natural eyelashes.
The kit typically includes several pairs of magnetic lashes, an applicator tool, and sometimes magnetic eyeliner.
With 10 Magnets Lashes: This specific kit contains magnetic eyelashes with ten magnets on each lash. The number of magnets

can vary, but more magnets generally provide better lash stability and alignment.
Vendor in the USA: This indicates that the business selling this product operates within the United States and is a supplier or

manufacturer of magnetic eyelash kits.
In summary, a "Magnetic eyelashes kit with 10 magnets lashes vendor in the USA" is a product package that includes magnetic

eyelashes with ten magnets on each lash, along with other accessories. The vendor is a business based in the United States that
sells these kits to customers, either directly or through retailers.
These kits have gained popularity due to their ease of use, as they eliminate the need for traditional adhesive glue, making

them a convenient option for those who want to enhance their eyelashes without the mess of traditional false lashes.
Customers interested in these kits can purchase them from the vendor to achieve a fuller and more dramatic eyelash look.
Product Description
| | |
| --- | --- |
| Product Name | Magnetic eyelashes kit with 10 magnets lashes vendor USA |
| Material | faux mink |
| Band | cotton black bands with magnetism |
| Techinique | Hand made |
| Color | Natural Black |
| MOQ | 10sets |
| Samples | Accepted |
| Package | Custom package is available |
| OEM,ODM | Available,and we do wholesale with your private label packages |
| Payment Terms | T.T,Paypal,Western Union,Money Gram |
| Shipment Terms | By Sea,Air or Express |
| Delivery Time | 10-15 working days as your order details,5-7days if stock |
Magnetic eyelashes kit with 10 magnets lashes vendor USA pictures: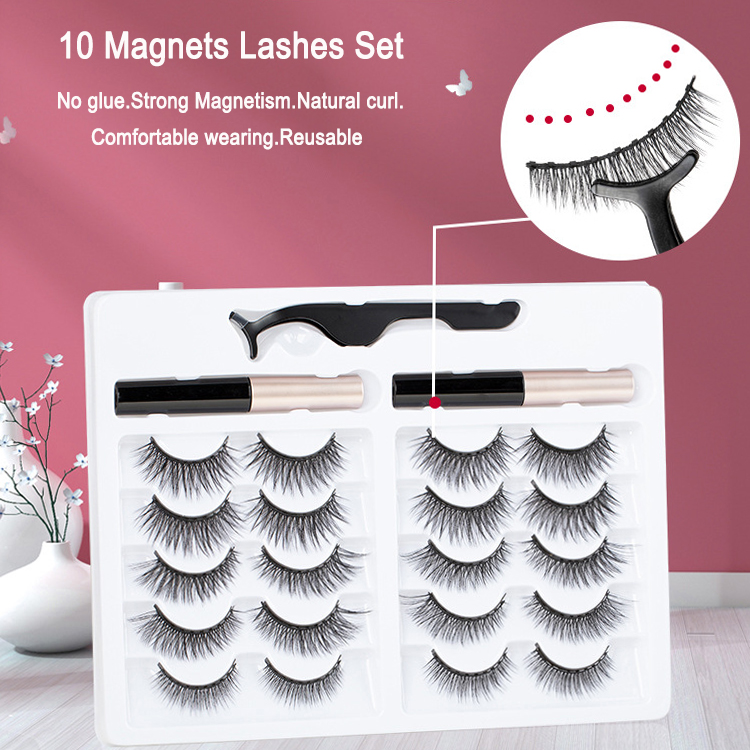 10pairs magnetic lashes kit,the kit include 10pairs magnetic lashes with 10magnets on each lash strip,2magnetic eyeliners and 1 lash applictor.The 10magnets on each lash,no need glue,strong magnetism,reusable for more than 60times.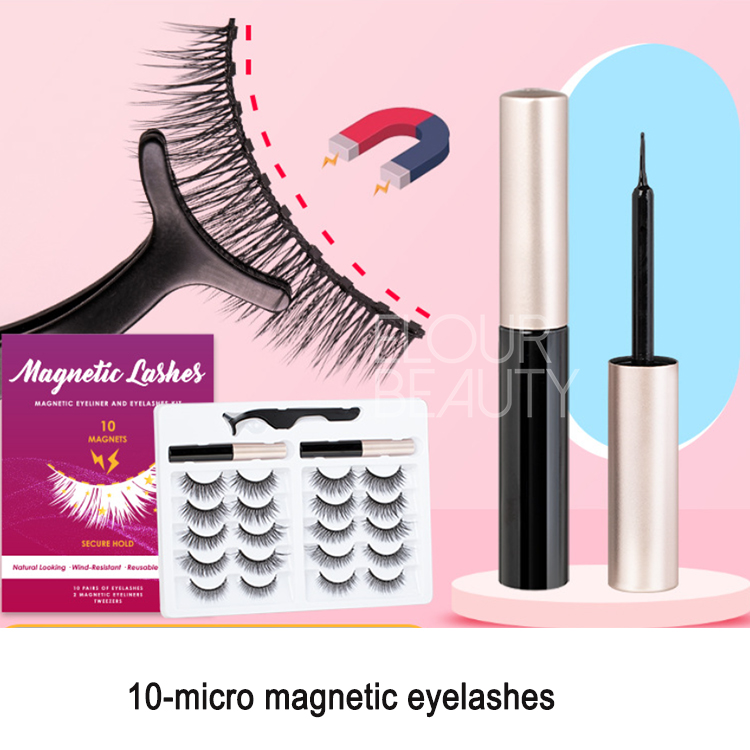 10 micro magnets eyelashes each strip lash,strong magnetism,the magnetic eyeliners are strong.Can do private label package as need.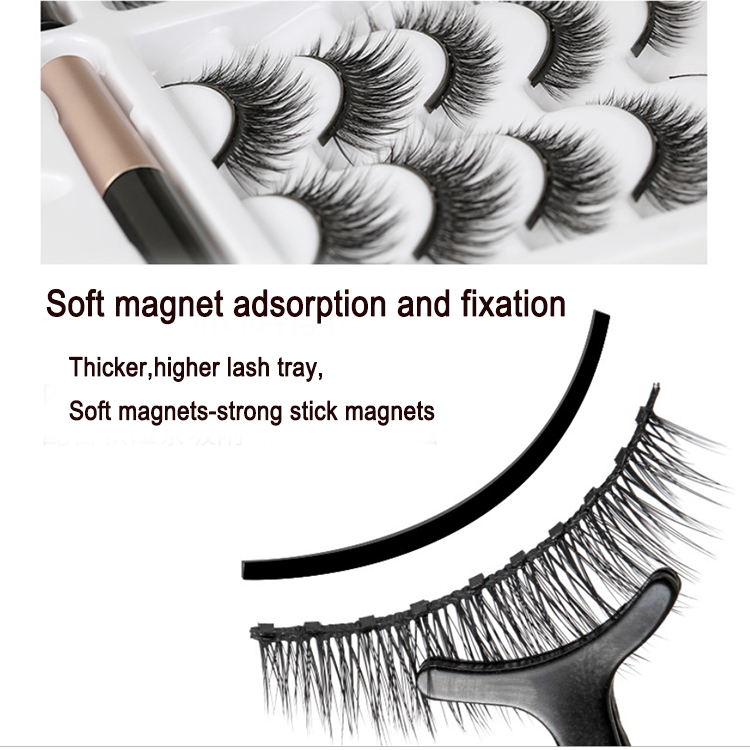 The lash strip have 10magnets on each strip,no need glue to stick the lashes,the soft magnet strip fix the lashes,no harm to the lashes.10magnets on each lash,strong stick.And the lashes can wear more than 60times.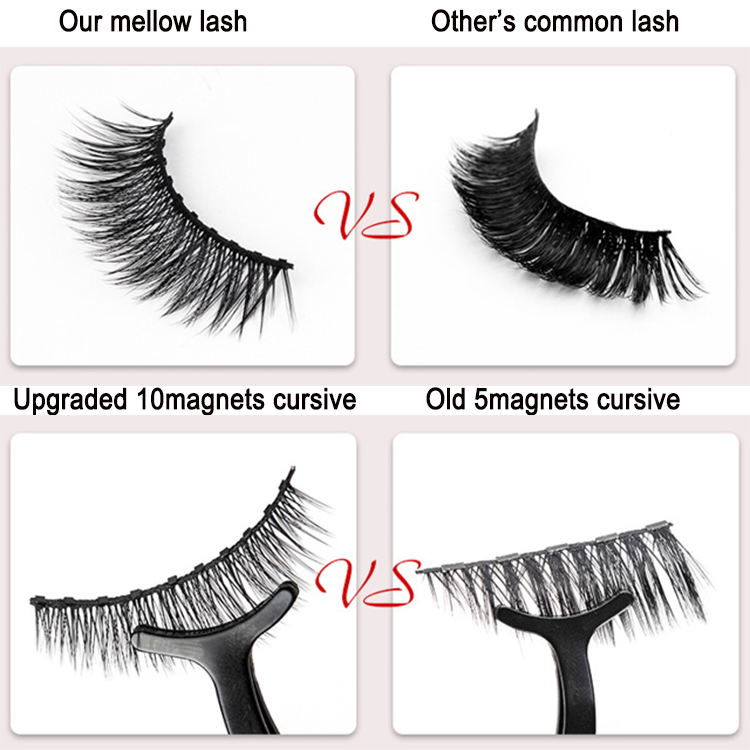 Our 10 magnets lashes use the good quality mellow lashes,with natural curl,you can see how good they are from the picture compare to others.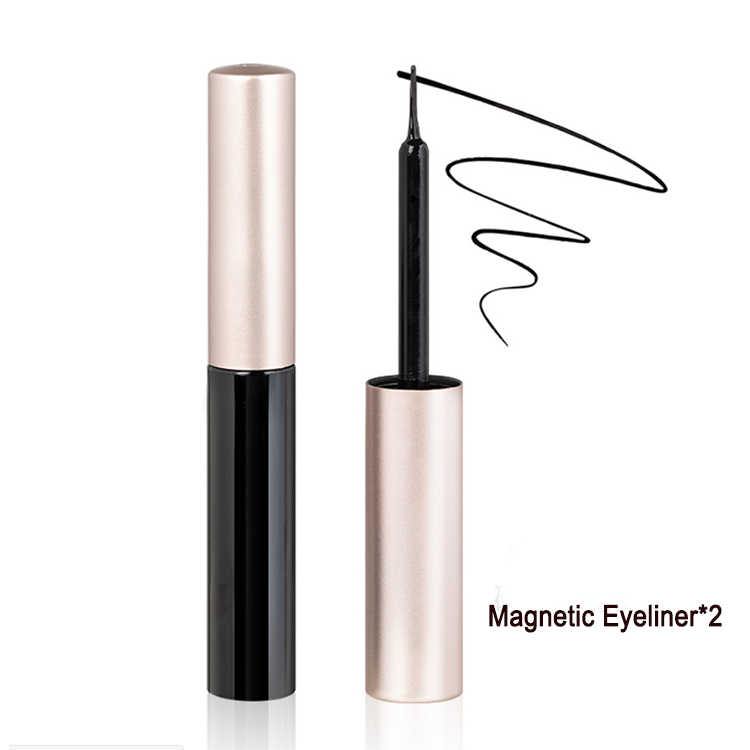 2magnetic eyeliners,volume one,so the magnetic lashes can use again and again with the eyeliners.
The 10magnets eyelashes pictures:

This 10 magnets eyelashes of 10pairs pack,can do one lash styles also can mixed styles for them.
Magnetic eyelash users excellent feedback: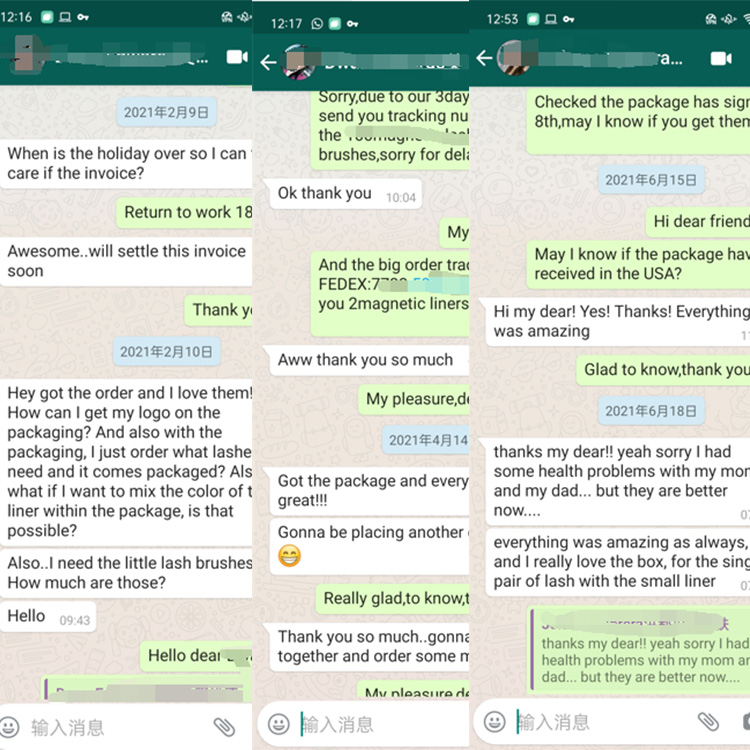 Joah from USA:Thanks for everything, my sales are doing great, very nice, new look, soon I will order another 100 pcs!!! so excited.
Sess from Canada:Really likes,and our buyers like them too,lashes are so softness.
Amony from Australia:Excellent eyeliner,very easy to use,strong stick ,last a whole day!!

Linda from South Africa: Love these lashes!!They were so easy to apply. I was so shocked at how easy and fast the application process was with adding it to my makeup routine. Will buy more.
FAQs for magnetic eyelashes kit with 10magnets lashes:
1. What is a Magnetic Eyelashes Kit with 10 Magnets Lashes?
Answer: A Magnetic Eyelashes Kit is a beauty product that includes magnetic eyelashes with ten magnets on each lash. It
offers an innovative and glue-free way to enhance your eyelashes.

2. How do magnetic eyelashes work?
Answer: Magnetic eyelashes use tiny magnets along the lash line to adhere to the natural lashes. They sandwich your natural

lashes between two lash strips, creating a secure hold.
3. Are these magnetic lashes safe to use for my eyes?
Answer: Yes, magnetic eyelashes are generally considered safe for most people when used correctly. They eliminate the risk

of allergic reactions often associated with lash adhesive.
4. Do I need any special tools or products to apply magnetic eyelashes from the kit?
Answer: Many kits include an applicator tool and magnetic eyeliner, which can make the application process easier. However,

they can often be applied without these tools.
5. How long do magnetic eyelashes last once applied?
Answer: The longevity of magnetic lashes can vary, but they can typically stay in place all day or night if properly applied. You

can remove and reapply them as needed.
6. Can I wear these lashes with my regular makeup, including mascara?
Answer: Yes, you can wear makeup with magnetic eyelashes. However, it's best to apply mascara before attaching the lashes

to avoid damaging them.
7. Are these lashes reusable, and how do I clean them?
Answer: Yes, magnetic lashes are reusable. To clean them, gently remove any makeup or adhesive residue with a clean, damp

cloth or cotton swab. Store them in their original case to maintain their shape.
8. How can I find a reliable vendor for magnetic eyelash kits in the USA?
Answer: You can research vendors online, read reviews, and look for established businesses with a good reputation for quality

and customer service.
9. Are there different styles and lengths of magnetic lashes available in these kits?
Answer: Yes, magnetic eyelash kits often offer a variety of styles and lengths to suit different preferences and occasions.

10. Do you offer wholesale or bulk purchasing options for businesses or professionals?
- Answer: Some vendors offer wholesale or bulk purchasing options for retailers, beauty salons, or makeup professionals.
Inquire about their bulk ordering process and pricing.
For more information about our false eyelashes,please contact:
Get Wholesale Price List: info@elourlashes.com
Tel: 0086-15964911928 Whatsapp: 0086-15964911928
You may like:
Easy use reusable long lasting portable magnetic eyelashes with magnetic eyeliners eyelash manufacturer USA EN07