Waterproof diy lash extensions ribbons at home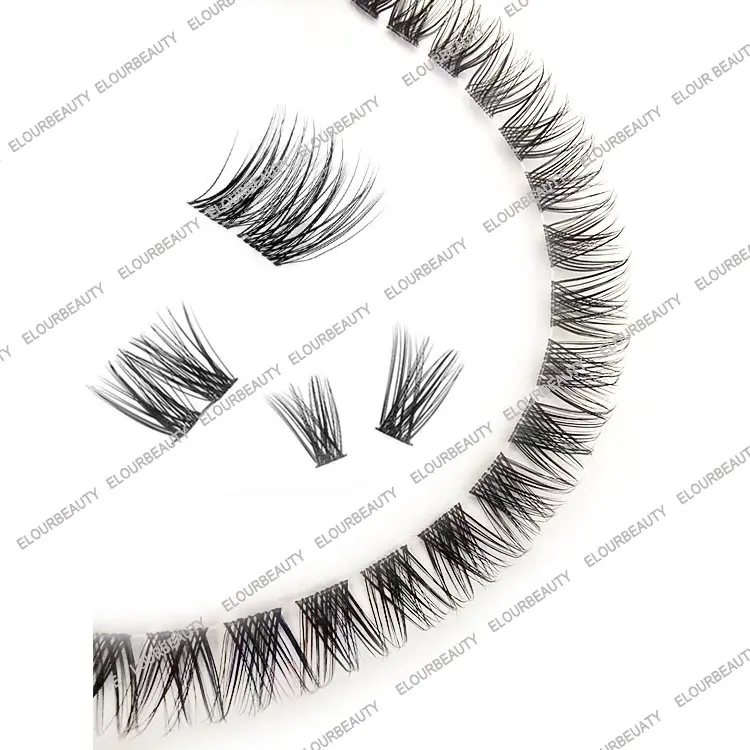 DIY lash extensions ribbon is with soft clear lash band,each ribbon is about 24clusters,when applying on eyes,can cut them into segments,use about 4-6clusters as need.One ribbon is volume,can use for many times,you can do at home,do your home own beauty,saving time,saving money.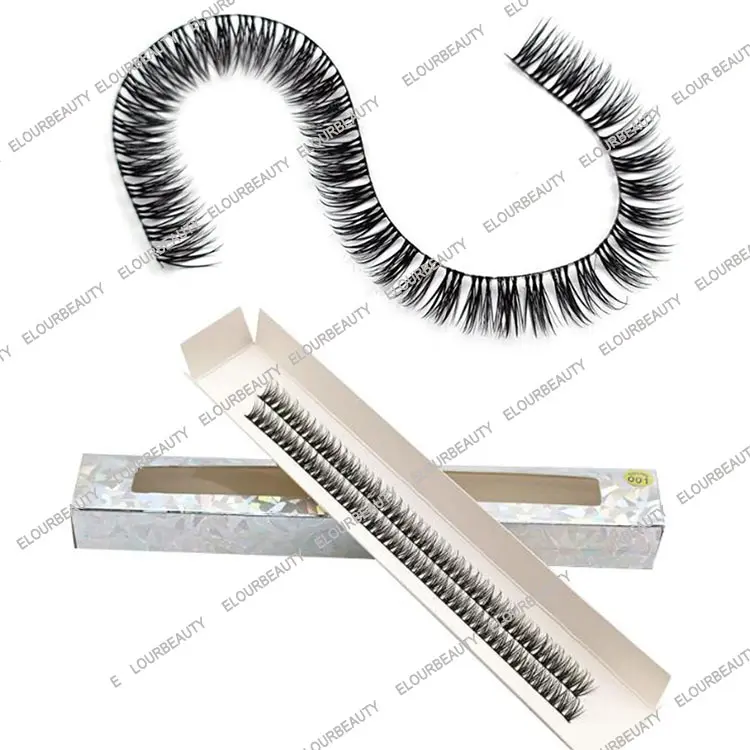 The DIY lash extension ribbons also have soft cotton bands,and the bands we made are very thin,so when apply on eyes,very seamless on natural eyes,and thin band is lightweight.They are in lash ribbons and can pack them in ribbons,when use,cut them as need.Here is a lash ribbon,and also the other 2 lash ribbons are packed in a package box and the box is with no logo,also can do customized package boxes as need.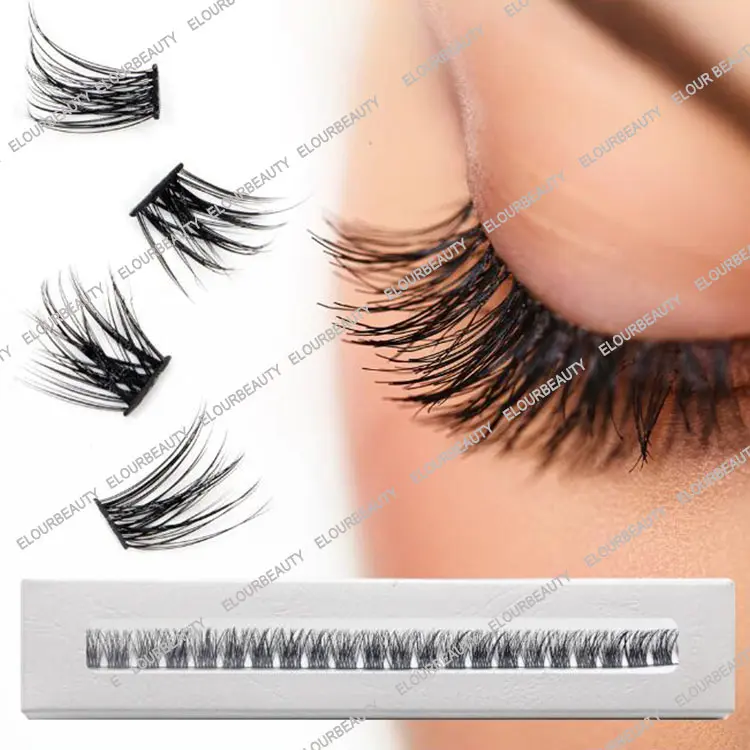 The DIY lash extension ribbons are easy to use,only cut them,and dip with strip lash glue,lash extension glue or DIY lash bond,sealant,you can get beautiful charing eyelashes at once.You can do at your home,reach your own home beauty,really save time.And the diy lash extensions are reusable and waterproof,no worry about wash face and have bath,they can last 5-7days.
How beautiful the eye with our DIY lash ribbon clusters.Soft cotton bands in cluster one by one.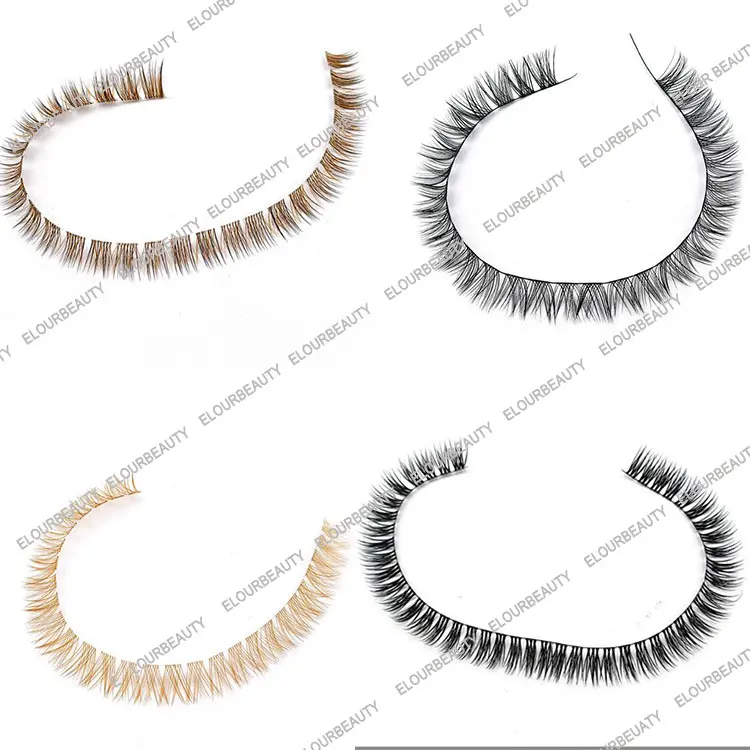 Here are some styles of our waterproof diy lash extensions ribbons,we have natural black color and also have dark brown and light brown color,have black cotton bands and also have invisible clear band.And have many other styles for choices.Contact me for more.
The DIY lash extensions ribbons is the innovation and revolution.Wearing strip lashes,someone think is clumsy,not comfortable,maybe they do not like the feeling a full lash on lash line,and grafting the eyelash extensions need to do at beauty salon,and need about one hours,after grafting when natural lashes growth,need to makeup,so take time.But the DIY lash extensions ribbons solve the problem of strip lashes,and eyelash extensions.With the DIY lash extensions ribbons,you can do what kind of lashes on your eyes absolutely you want,no any unconfortable feeling,you can do half lash with 2clusters diy lash,you can do 4 to 6clusters with a full lash but nice feeling;and you can have the eyelash extensions like last 5-7days with the diy lash extensions,no any trouble of the natural lashes growth...etc.With the DIY lash extension ribbons,you fully realize the freedom of eyelashes.Spend less money,but have a satisfied eyelashes at home,spend less time on lashes each day.What an amazing DIY lash extension ribbon!
If you are doing the eyelashes business,try the DIY lash extension ribbons,they will not let you down!They will make your lashes business growth!
If you are planing for starting the lash business,the DIY lash extension ribbons is your first choice,we are the lashes direct manufacture,our price is low,and we have strict inspection system and custom service,and also we have many new styles,buy our DIY lash extension ribbons you can earn big profit and seize the market,get more long-term customers.
If you have beauty salon,beauty shop,sell lashes,to update your eyelashes types,expend to our DIY lash extensions in cutted or in ribbons,you can win more and more long-term users,and the beauties will like your lashes more.And buy from you can get low price,fast shipping,high quality,best customer service.Buy from us,you will no any worries,you only responsible for selling,we give you backstage guarantee!!
FAQs for diy lash extensions ribbons:
1. What are DIY lash extensions?
DIY lash extensions are a method of applying individual synthetic lashes to your natural lashes to enhance their length,
volume, and appearance without needing to visit a professional salon.
2. What are waterproof lash extension ribbons?
Waterproof lash extension ribbons are specialized adhesive tapes designed to secure the lower lashes during the DIY
lash extension process. They help prevent the upper and lower lashes from sticking together and ensure a clean application.
3. Can I use regular lash extensions for a waterproof application?
Regular lash extensions can be used for waterproof applications, but it's recommended to use waterproof adhesive and
take extra care during the application process to ensure they hold up well when exposed to water.
4. What is the benefit of using waterproof lash extension ribbons?
Waterproof lash extension ribbons help keep the upper and lower lashes separated, reducing the chances of lashes sticking
together during the application process. This makes it easier to achieve a neat and professional-looking result.
5. How do I apply waterproof lash extension ribbons?
To apply waterproof lash extension ribbons, gently place the ribbon along the lower lash line, ensuring it's secure but not
too tight. The ribbon should cover the lower lashes, leaving the upper lashes accessible for the extension application.
6. Can I reuse the waterproof lash extension ribbons?
Waterproof lash extension ribbons are generally designed for single-use to maintain hygiene and prevent potential irritation.
It's recommended to use a new ribbon for each application.
7. Are waterproof lash extensions easy to remove?
Yes, waterproof lash extensions can be removed using an oil-based makeup remover or lash extension remover. Gently apply
the remover to the lash adhesive, allowing the extensions to loosen before carefully sliding them off.
8. How long do waterproof DIY lash extensions last?
The longevity of DIY lash extensions depends on various factors, including the adhesive quality, your natural lash growth cycle,
and how well you care for them. On average, they can last from 2 to 4 weeks with proper maintenance.
9. Can I swim and shower with waterproof DIY lash extensions?
Yes, waterproof DIY lash extensions are designed to withstand exposure to water, so you can swim and shower with them.
However, excessive exposure to water and steam might slightly decrease their lifespan.
10. Are waterproof DIY lash extensions suitable for everyone?
While waterproof DIY lash extensions can be used by many individuals, those with sensitive eyes or certain skin conditions
might experience irritation. It's important to do a patch test before applying extensions to ensure you don't have an adverse
reaction.