0.03mm 12D 14D 16D volume premade fans lashes
The thickness : 0.03mm
Curl: C,D,or customized
Length: 8-16,or 18mm
Style:12D,14D,16D pointed tip
Package: 12lines small package,12lines big package
16lines big package,20lines big package

Customized
The details pictures of the volume premade fns eyelash extensions
The 14D volume premade fans lashes are with 12lines in a tray,each line is 10pcs volume fans,and with pointed tip.Our pointed tip volume lash extensions tips are so thin,very easy to use.The lash hairs are in 0.03mm thickness,soft and light weight,volume fans but comfortable feeling.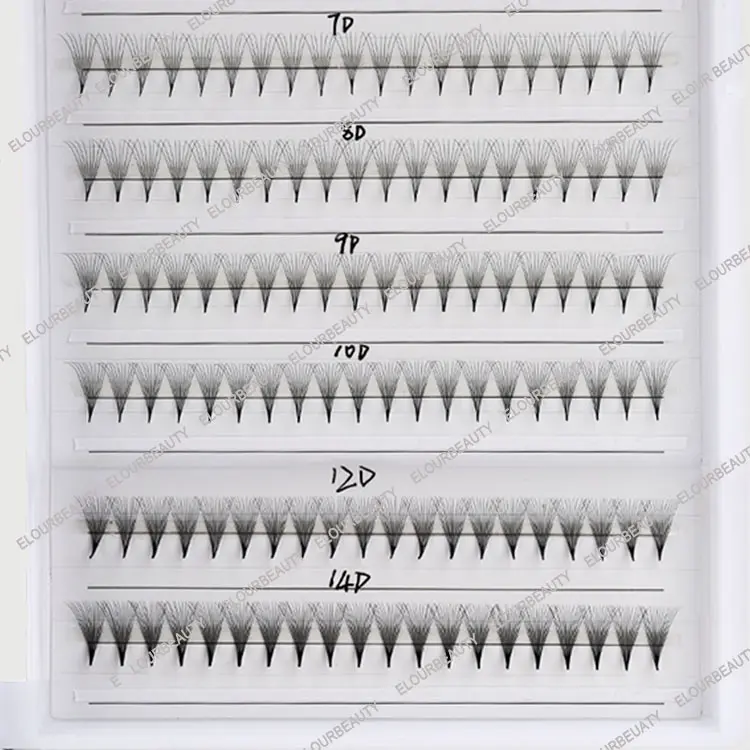 Here is the different volume,hybrid and mega volume fans 7D,9D,10D,12D,14D.This is a big tray with each line 20fans,mixed tray,also can mixed lash lengths in a tray as customized.The mixed trays will be much easier to use,really convenient.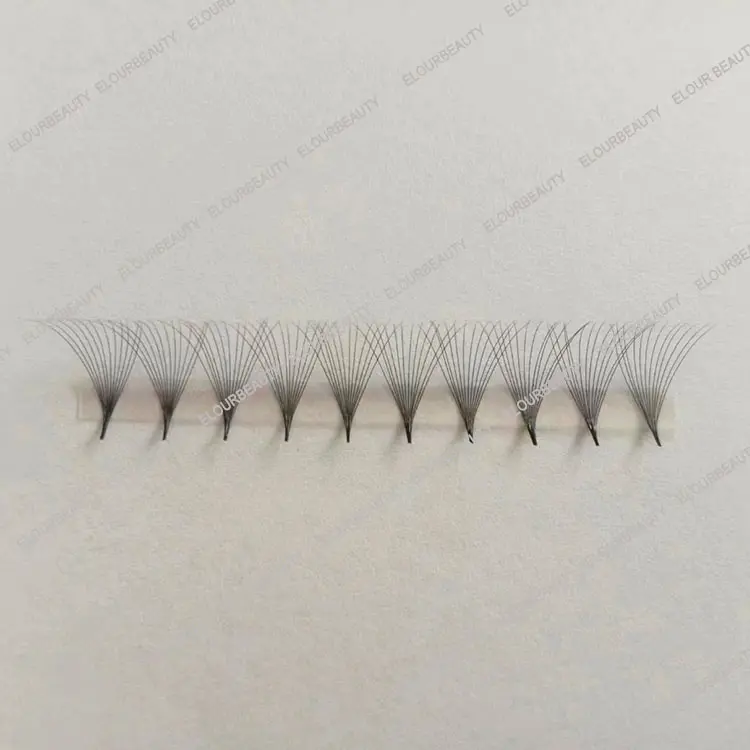 How beautiful of the 12D premade fans!Thin hairs,thin pointed tips,big fans.Our premade fans eyelash extensions use the best materials,to ensure each of our lash fans are in good quality,no split the root,standard thickness,standard long lasting curls,easy to pick up from the lash tapes.All of our volume premade fans will give you the best feeling,you will love our lashes after using.
We are the prefessionally premade fans eyelashes manufacturer for more than 17years,the reason we can last long is we put quality in the first important place.Aslo after a long period of development,we can control our lashes cost low.So from here you can get the best quality fans lashes with low price.After you get our lashes,good quality and also low price,so you will have strong competitive advantage,will be very easy to win in the market.
Have the quality lashes is very important,only your eyelashes are good quality,your users will like them,and then buy again and again from you,and also they also will introduce their friend to buy from you,gradually your will have good reputation and loyal customers,and will have more and more customers and surely your business will do big and big.Otherwise,if your quality is bad,maybe when you buy them,they are cheaper than others,but bad quality lashes cant go far.Firstly,maybe have users buy from you,after they tested,but not good quality,they will ask you refund.Not only one users will do so,but all of the users will do so,ask refund.Easily to know,no one will buy from you,all your lashes will keep at your hand,will be useless for you.Maybe firstly you paid less than others,you thought you earned,but finally all your lashes cant sell out,it is a lose for you.Not make any a little point discount on your lashes quality.
What of ours advantage is not only have quality premade fans eyelashes but also our lashes are low reasonable price.
So the lashes ordered from us,even if you sell lower than others in the market,you still will be earned.Order from is a very good and wise choice.