0.04mm volume cashmere velvet eyelash extensions
Item Name: 0.04mm volume cashmere velvet eyelash extensions
Curl: J,B,C,CC,D,DD,L,M curls
Length: 5-25mm
Thickness: 0.02,0.03,0.04,0.05,0.06,0.07,0.08mm
Package: Arcylic tray or customized magnetic boxes
Private Logo:Yes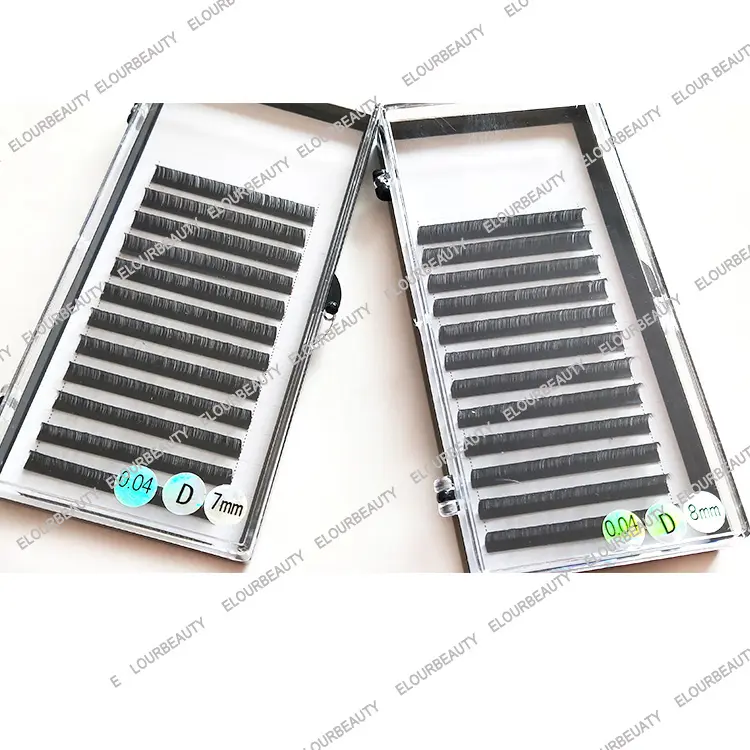 Here are 2 trays of the 0.04mm volume velvet eyelash extensions,they are in D curl 7mm one tray and 8mm the other tray.The legnth is short,and also we can do shortest 5mm and 6mm as need.They are packed in a black box clear cover,easy to see the lashes inside.Single lengths 12lines each tray,and also can do mixed lengths trays,16lines,20lines etc as need.the lash hairs are very soft,like velvet.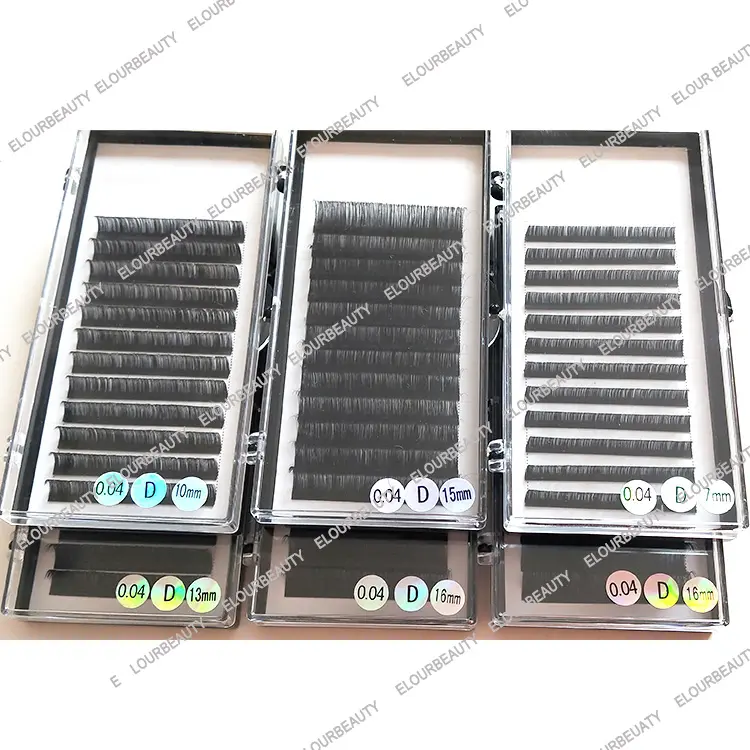 They are more trays os 0.04mm velvet cashmere volume lash extensions,single lashes each tray,volume thickness 0.04mm.The lashes are made in the cashmere hairs,so soft,light weight,very comfortable after grafting.Our eyelash extensions are with long lasting curl,can last more than 1 year.They are easy to take from the lash strips,and foiled background cards easy to stick and ick.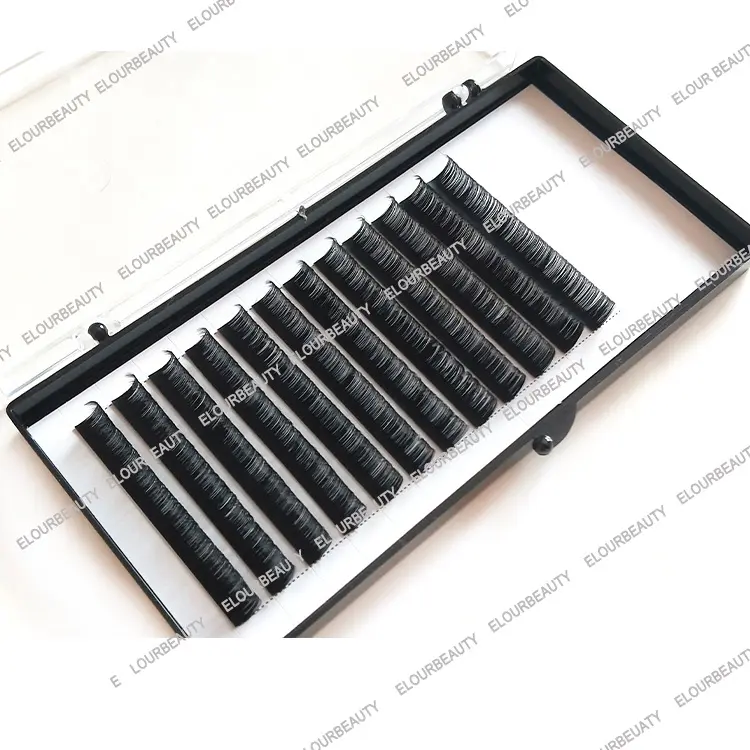 This lash tray is in 0.04mm D curl,velvet cashmere lash hairs,matte black color,100%handmade,super soft,light weight.Give natural volume looking after grafting on eyes.
The related eyelash extensions tools:

We have almost all of the eyelash extensions tools and accessories,and they are in high quality,low price.Almost all of them can do private label logo.You can do one stop shop here,save your time.
FAQs for 0.04mm volume cashmere velvet eyelash extensions:
1.What are 0.04mm volume cashmere velvet eyelash extensions?
0.04mm volume cashmere velvet eyelash extensions refer to a type of lightweight and
ultra-fine lash extension that's part of the volume lash technique. They are designed to
create a more dramatic and voluminous look.
2.What is the volume lash technique?
The volume lash technique involves applying multiple lightweight lash extensions to
each natural lash, creating a fuller and more voluminous appearance. The 0.04mm
thickness is used in this technique to achieve a lightweight yet voluminous effect.
3.What sets 0.04mm volume cashmere velvet extensions apart from other types?
These extensions are extremely thin and soft, making them suitable for creating dense
volume without adding excessive weight to the natural lashes.
4.How are 0.04mm volume cashmere velvet extensions applied?
A skilled lash technician uses tweezers to create a "fan" of multiple lash extensions and
then attaches the fan to a single natural lash. This technique requires precision and expertise.
5.Are they suitable for all eye shapes?
Yes, 0.04mm volume cashmere velvet extensions can be customized to suit various eye
shapes and preferences, offering versatility in creating a desired look.
6.How long do these extensions typically last?
The longevity of lash extensions can vary depending on factors such as aftercare, natural
lash growth cycle, and the adhesive used. On average, they can last 2 to 4 weeks.
7.Are they safe for my natural lashes?
When applied correctly by a trained professional, these extensions are generally safe for
your natural lashes. However, improper application or excessive weight can lead to damage.
8.Can I wear eye makeup with these extensions?
Yes, you can wear eye makeup, but be gentle when removing it to avoid pulling on the
extensions. Oil-free makeup removers are recommended.
9.Can I use mascara with 0.04mm volume cashmere velvet extensions?
Using mascara is usually not necessary with volume lash extensions, as they provide a
voluminous effect on their own. Mascara can also clump the delicate extensions together.
10.Can I swim, shower, or engage in physical activities with these extensions?
Yes, you can engage in these activities, but try to avoid excessive exposure to water and
steam for the first 24-48 hours after application. Pat your lashes dry after getting wet.
11.Can I curl these extensions with an eyelash curler?
These extensions are already quite curled, so using an eyelash curler is generally not
necessary and could potentially damage the extensions.
12.Can I remove these extensions myself?
It's best to have a professional lash technician remove these extensions to prevent
damage to your natural lashes.
Our eyelash extensions are made with the best materials,soft,light weight,with natural look and feel.They are made 100% handmade,with stable curl,made with the professional physical high temperature technology,the curvature can maintain better and not loose curl.The foil backing paper,remove easily from the tape,no paper scrapes on the lash extensions pads.Less sticky strip makes is is easy to remove the lashes,no residual,no stick,no kink.

If you need good quality eyelash extensions,our 0.04mm volume cashmere velvet lash extensions are a very good choice.We are the professional lash extensions manufacturer,you can get primary resources.