2023 create my own eyelash brand uk of newest invisible magnetic false eyelash with eyeliner suppliers uk
From 3 years old,we were in researching the magnetic false eyelashes,but no need magnets on lash band,so that will be more light weight.After about 2 years hard work,our dream come true,the invisible magnetic false eyelashes launched in end 2020.And after some time work,our invisible magnetic eyelashes are perfect,and our manufacturing technology is mature.Now our order demand exceed supply.So if you want to create my own eyelash brand,do our invisible magnetic eyelashes will be a good choice.
Product Description
| | |
| --- | --- |
| Product Name | 2023 create my own eyelash brand uk of newest invisible magnetic false eyelash with eyeliner suppliers uk |
| Material | natural |
| Band | invisible clear bands or black bands |
| Techinique | Hand made |
| Color | Natural Black |
| MOQ | 50sets |
| Samples | Accepted |
| Package | Custom package is available |
| OEM,ODM | Available,and we do wholesale with your private label packages |
| Payment Terms | T.T,Paypal,Western Union,Money Gram |
| Shipment Terms | By Sea,Air or Express |
| Delivery Time | 10-15 working days as your order details,5-7days if stock |
2023 create my own eyelash brand uk of newest invisible magnetic false eyelash with eyeliner suppliers uk pictures: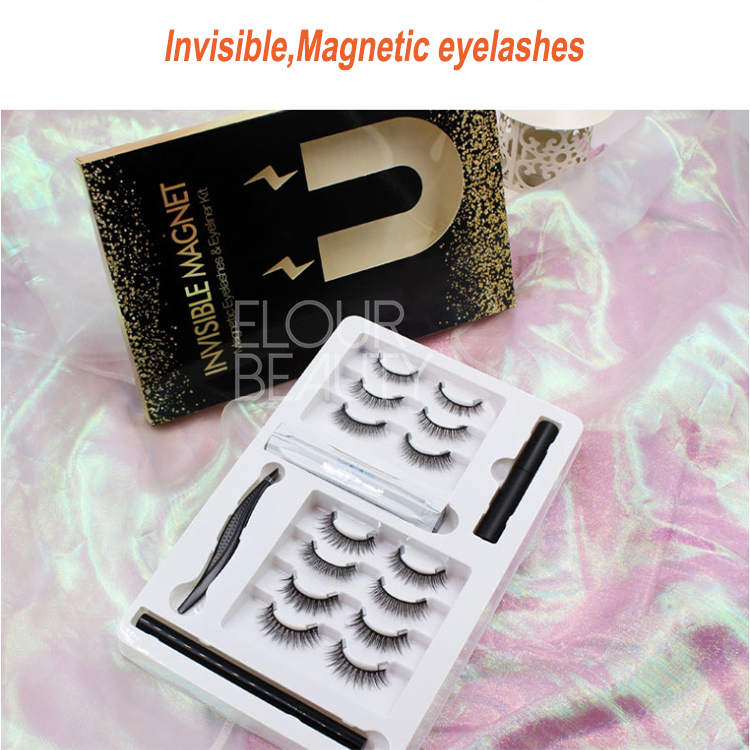 Invisible magnetic eyelashes set,7pairs invisible magnetism eyelashes with magnetic eyeliner,magic glue eyeliner,lash applicator,cotton bands.And the package box,can do my own brand box.
The Advantages of the Invisible magnetic eyelashes: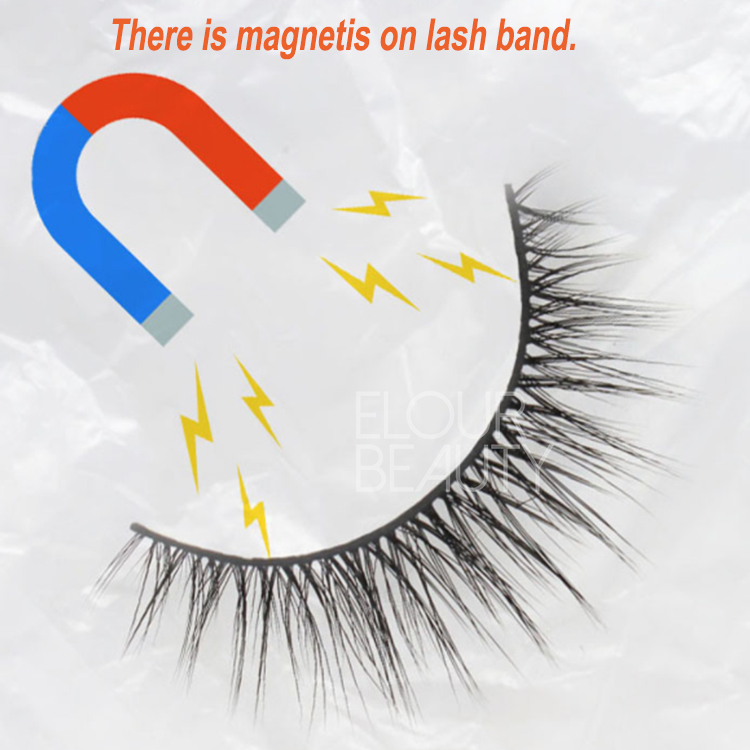 There is magnetism on lash band,but no need glue to wear,also no magnets on band,ligher and softer,and easy to use.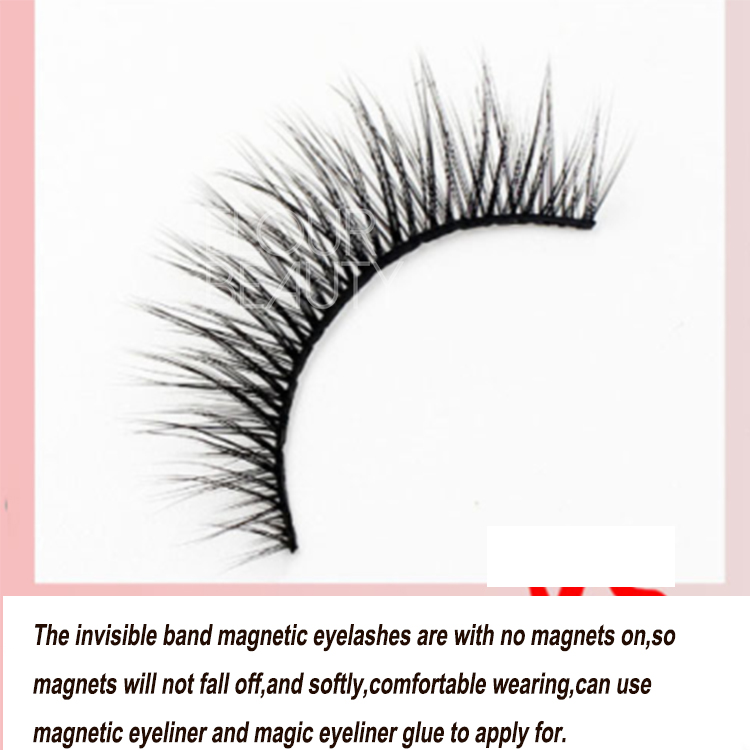 No magnets on lash band,so no magnets will fall off.And lash band is soft and easy to use,long lasting,reusable.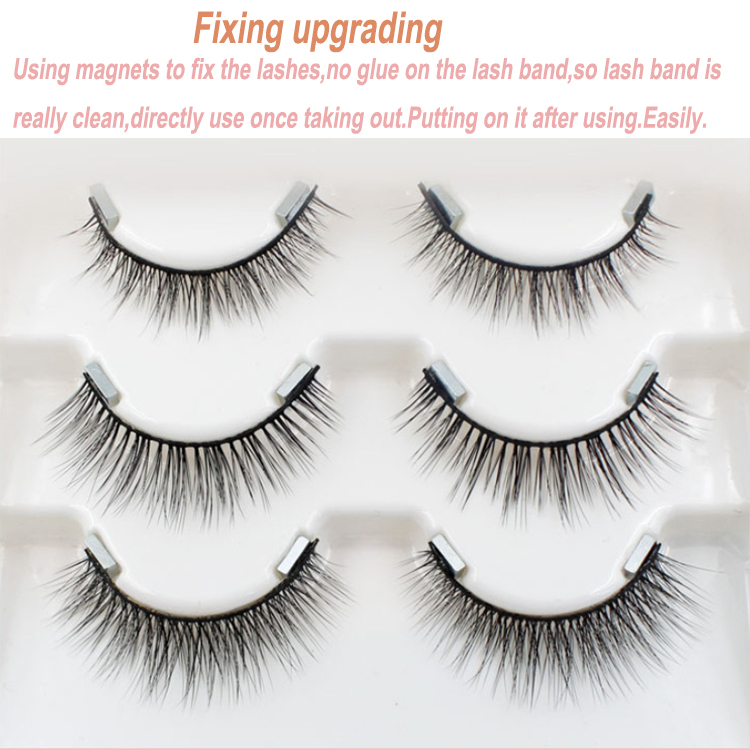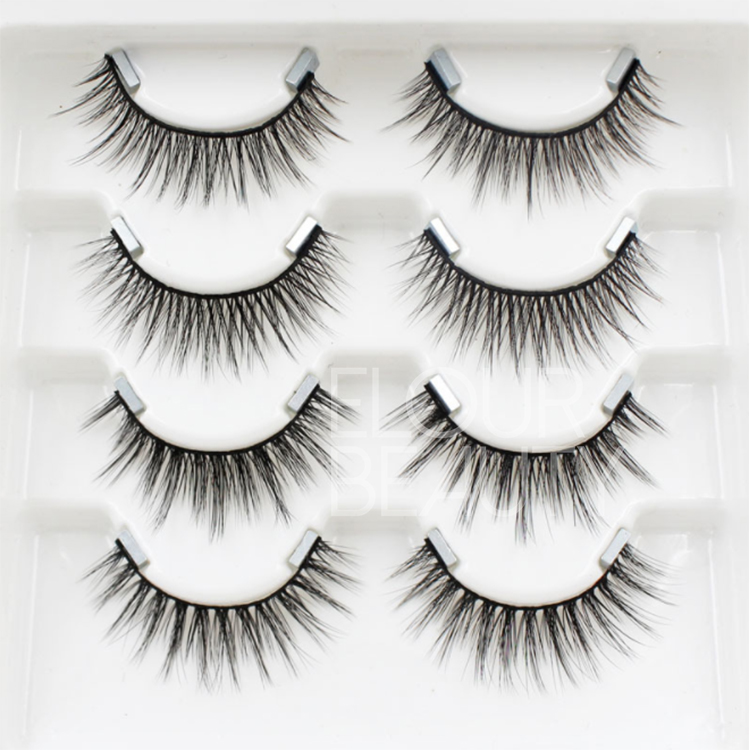 Invisible magnetism magnetic eyelashes,there is magnetism on lash band,so no need to use glue to fix the lashes on lash tray.We use magnets on lash tray,then put the lashes on,and no glue,no harm to lashes,can use directly.And after useing can put lashes on the tray directly.Long lasting,reusable again and again,no damage to the lashes.
The Different Lash styles for choices:
The details of the different invisible magnetic eyelashes,for different choices.

Customized,your own brand boxes can be made.And do invisible magnetic lashes with the liners and the tweezers in a set as need.
FAQs for invisible magnetic eyelashes:
1. What are invisible magnetic false eyelashes, and why are they popular in the UK beauty market?
Answer: Invisible magnetic false eyelashes are a innovative lash product that use magnetic technology for easy and quick
application. They are popular because they eliminate the need for adhesive glue, making them more user-friendly and less
damaging to natural lashes.

2. How do I find reliable suppliers for invisible magnetic false eyelashes and eyeliner products in the UK?
Answer: To find reliable suppliers, research online, attend beauty trade shows, and consider reaching out to industry
associations for recommendations. It's essential to evaluate suppliers based on product quality, reputation, and customer
reviews.

3. What should I consider when selecting eyelash styles for my brand?
Answer: Consider your target market's preferences, trends in the UK beauty industry, and the uniqueness of your brand.
Offering a variety of styles, from natural to dramatic, can cater to a broader customer base.

4. How can I ensure the safety and compliance of my eyelash and eyeliner products with UK regulations?
Answer: Work with suppliers who provide products compliant with UK cosmetic regulations. Conduct thorough ingredient
checks and adhere to labeling requirements. Consider consulting with a regulatory expert if needed.

5. What are the key components of effective branding for an eyelash brand?
Answer: Effective branding includes a memorable brand name, a well-designed logo, cohesive packaging, and a brand story
that resonates with your target audience. Consistency in branding across all touchpoints is crucial.

6. What marketing strategies can I use to promote my eyelash brand in the UK?
Answer: Effective marketing strategies include social media marketing, influencer partnerships, paid advertising, content
marketing, email marketing, and participating in beauty events or exhibitions.

7. How can I differentiate my brand from competitors in the crowded eyelash market?
Answer: Focus on your unique selling proposition (USP), whether it's innovative product features, eco-friendliness, affordability,
or exceptional customer service. Highlighting what sets your brand apart can attract customers.