DIY double layer cluster lash extensions UK near me.
The DIY cluster lash extensions are the lashes that in cluster each piece,they can be do it yourself at home,so really easy DIY lashes.These cluster lash extensions are with volume fluffy looking in double layers,so when use them,it is very easy to get a volume looking,they will make your eyes big and shiny.These DIY cluster lashes are near me and near you,you can order from us,we can ship to you very soon,they are very near you.They are popular and much liked by UK market,so hot there.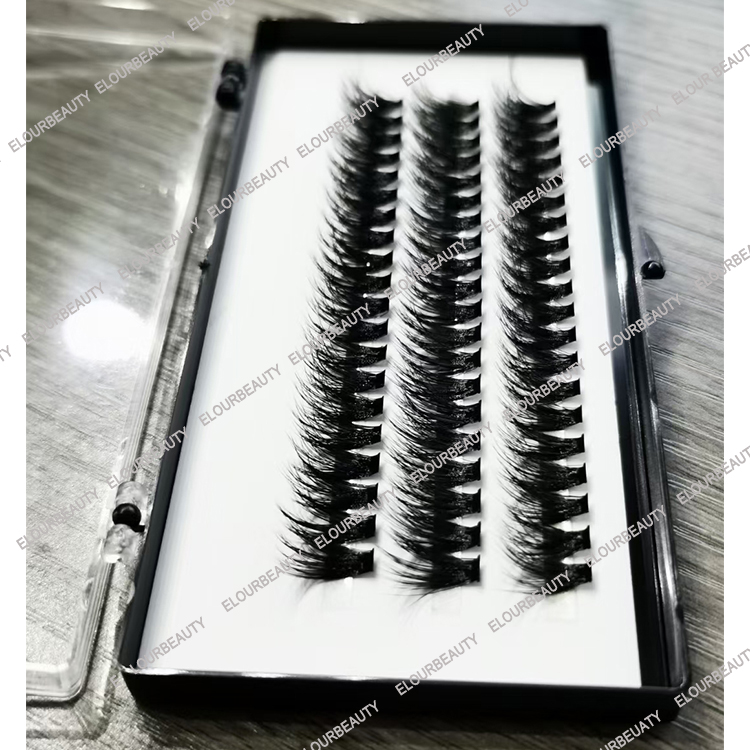 This double layers DIY cluster lash extensions is a full pack one,3 lines in this box,and each line is 20clusters,total is 60pieces,really volume pack.Each cluster is 40D,is with the fluffy volume looking,can do C curl or D curl as need.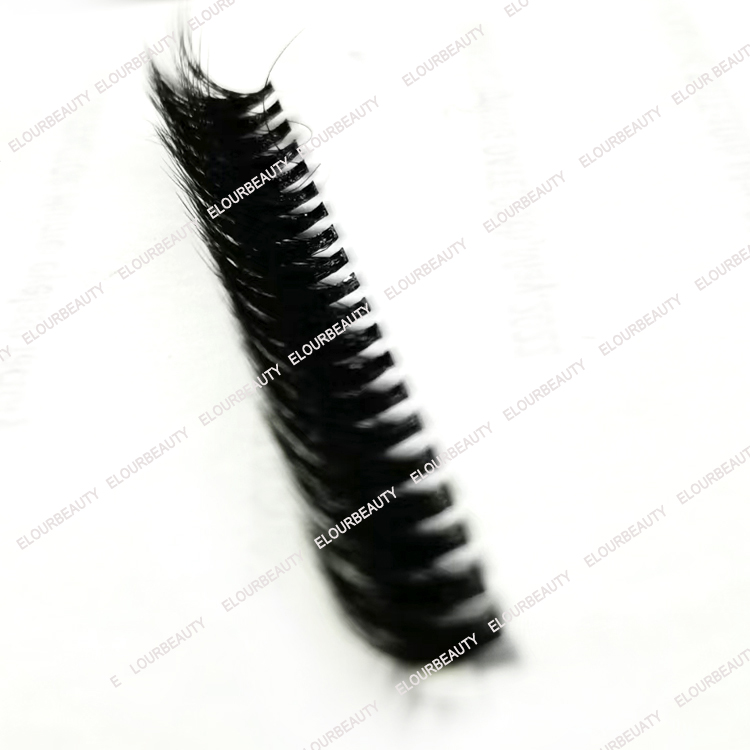 This is one tape,side seeing of the 40D cluster DIY lash extensions,thin band,volume hairs,fluffy curl looking,so perfect.And can do different lengths,8mm,10mm,12mm,14mm as need.
Close looking, very clearly for the double layers cluster lashes.40hairs each cluster,and the hairs are with different lengths and in different layers,the dark black hairs give amazing looking.
The advantages of the double layers DIY cluster lash extensions.This kind of DIY lashes are not same as the regular ones,they are with multiple full hairs in double layers,that kind of lashes are not occur in the market,they are very new now.You know any kind of new products in the market,surely will have a big interest ,the beauties like to try them,they never tried such kind lashes before,this double layers DIY lash extensions will give them different feeling.If they like them,they will become the loyal fan for that kind of double layers DIY cluster lash extensions,it will be very easy to have long-term customers.Also this double layers DIY cluster lash extensions are with soft hairs,and light weight,volume but not heavy,beautiful but not expensive,special and unique in the market,that will be very easy to get a market.So if you want to sell the DIY cluster lash extensions,this double layers DIY cluster eyelash extensions will be a very good choice.
We are the source factory of the eyelashes,so our eyelashes surely have price advantage.And that means when you sell you will have price advantage than your competitor or you will have profit advantage.Plus the good quality of our double layers DIY cluster lashes,you will be a winner from this lashes.No matter you are a beauty salon or a new starter for lashes business,this kind of cluster lashes both will help you to win in the lash market.Let's have a try, take a step closer to sucess.