DIY lash clusters lash extensions wholesale
DIY cluster lashes are perfect for beginners to wear at home without anyprofessional skills,you can diy according to your need.DIY superfine band lash ribbon,easy to apply,superfind band,1mm band,reusable up to 5-7times,strong band.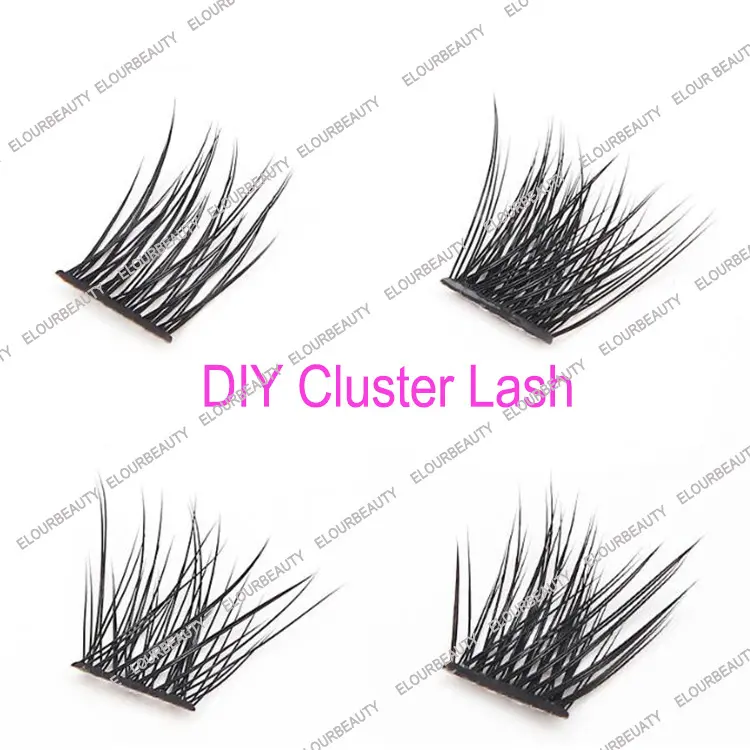 Here are different 4 DIY cluster lash extensions,they are easy to use,only take from the lash tape,and you can Do yourself lash styles,lash shape at home,to get what the lash shape you want.The lash hairs are soft and curly,enlarge your eyes easily.They are in clusters,no need to cut when use,very comfortable to use.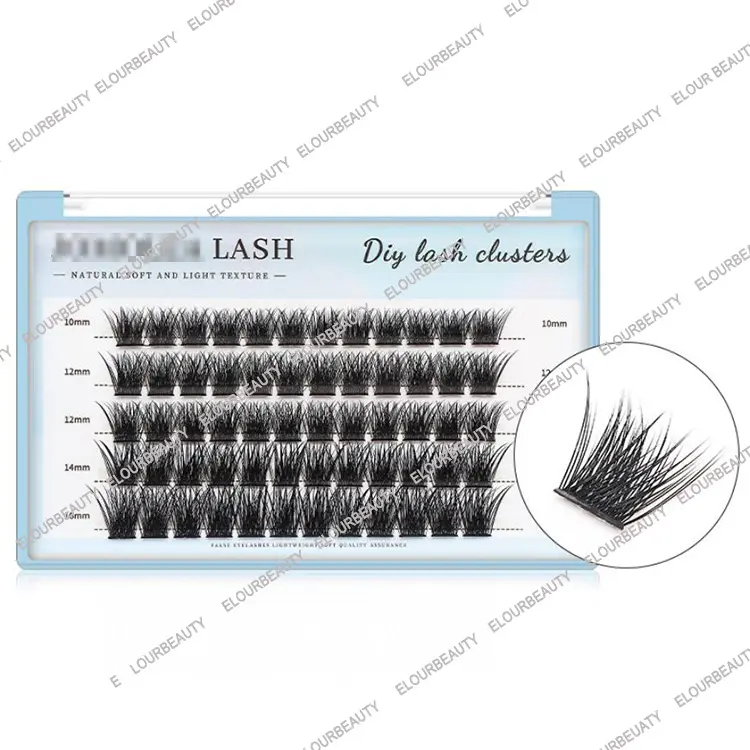 This DIY lash clusters are dense and realistic,natural and lightweight.These DIY lash cluster lash extensions are packed in a 5lines package box with 5 different lengths 10mm,12mm,12mm,14mm,15mm.Each line is 12pieces clusters,total is 60clusters,a very volume pack.They are packed in lines ,like the eyelash extensions,but they are in clusters,when use,you can use different lengths for your inner or outer lash.Easy to use,and they also can last 5-7days,like the lash extensions,no need to apply each day.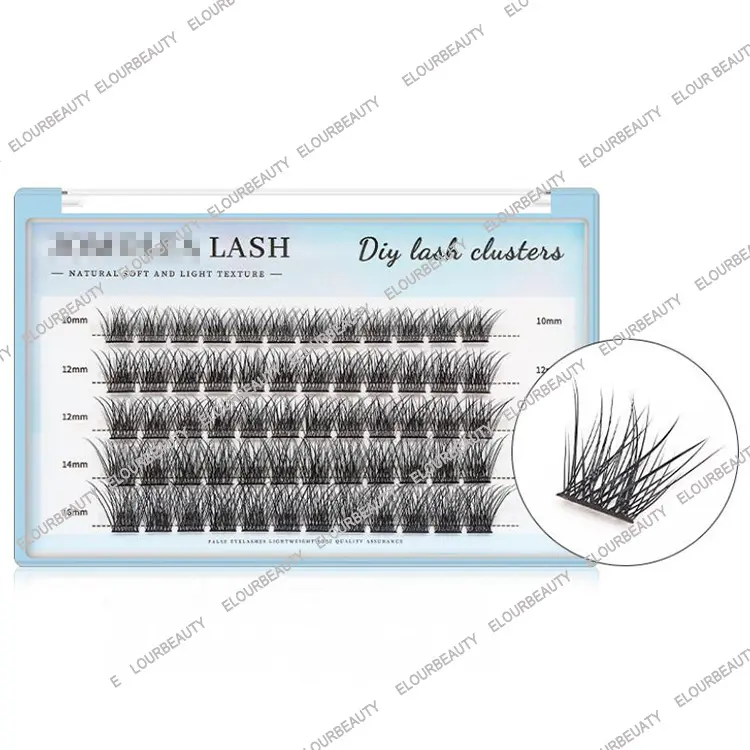 DIY lash clusters,the lash hairs are soft and made with heat bonded lash band,have the eyeliner effect themselves.The DIY lash extensions band are soft,thin,easy to pick up,but not split band.No need any technique,can do the lashes shape and effect as you want very easily.We do wholesale for these different kinds of DIY lash cluster extensions,bulk manufacture,fast delivery,wholesale lash factory price.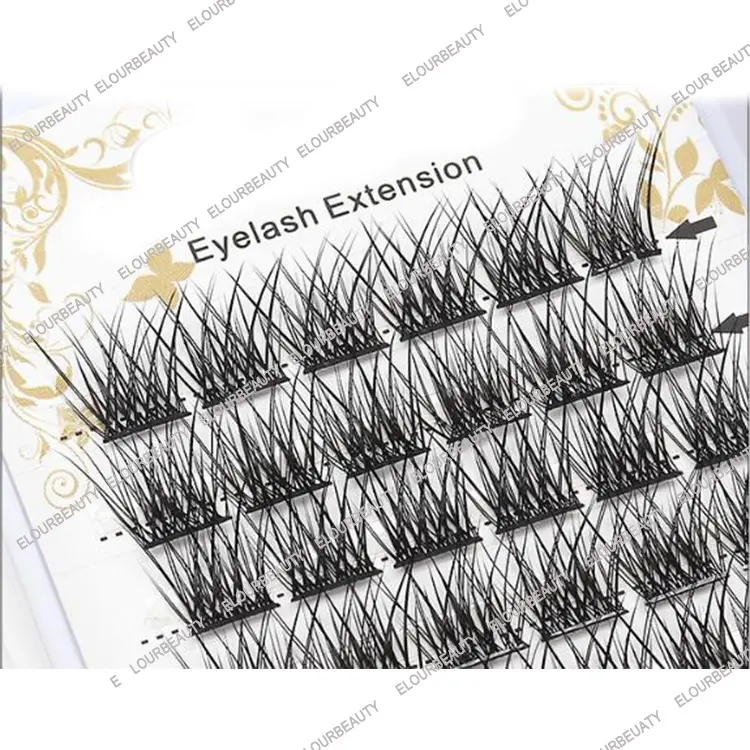 DIY lash clusters lash extensions wholesale,the DIY eyelash extensions in 6clusters per line and 12lines each tray.The lash clusters are easy to pick from the tapes,no split band,very easy to apply for,can DIY your lash shapes as like.This style is criss cross style,full and wispy,soft thin lash band.And like eyelash extensions using,long lasting 5-7days.And we wholesale supply,wholesale sell to all over the world,very popular and hot selling lashes in the market.
The Advantages of the DIY cluster lashes extensions: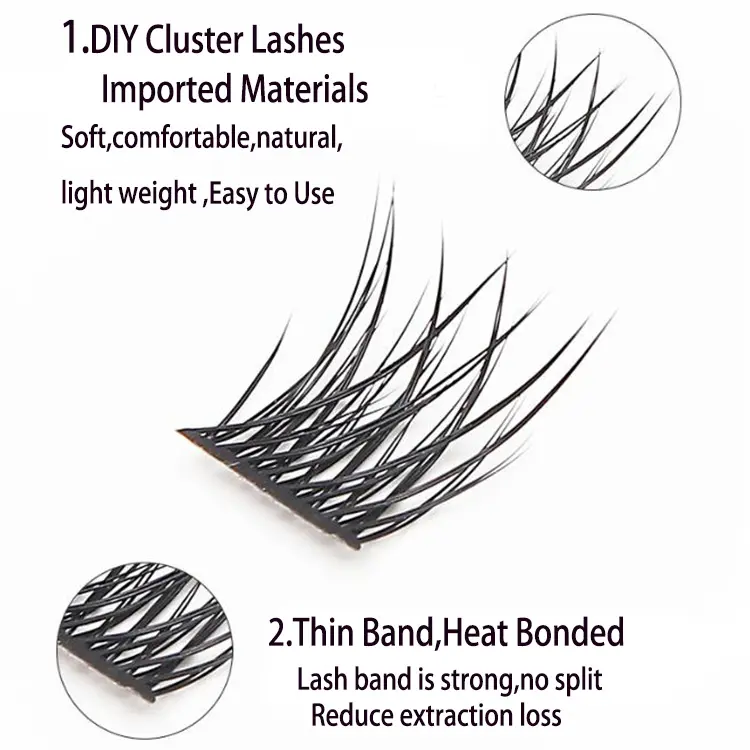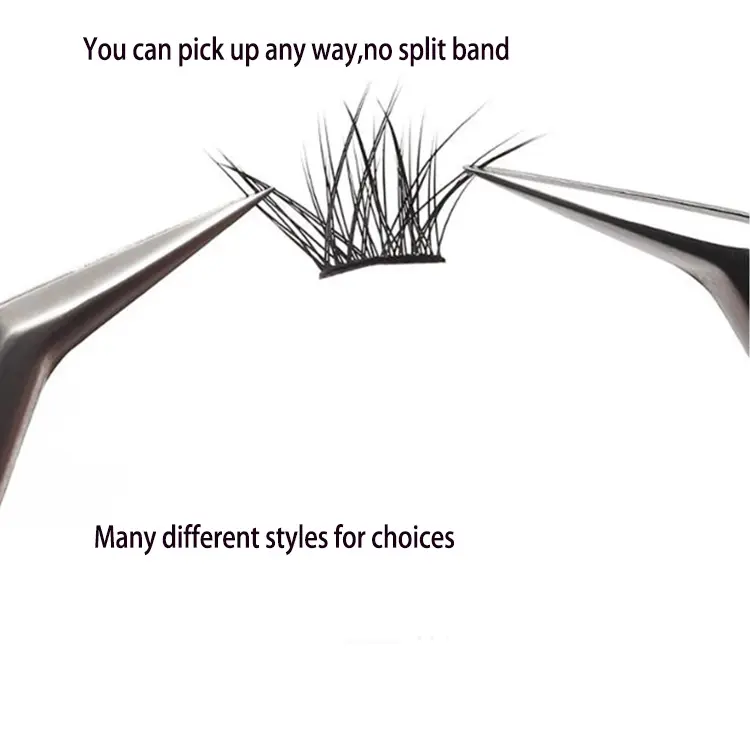 When use the strip false eyelashes,you need to apply for and remove each day,but these DIY lash clusters lash extensions once apply,can last 5-7 days,saving time each day.And our DIY lash cluster extensions and our DIY lash bond and sealant are waterproof and oil proof.You can wear comfortably each day.
Our DIY cluster lashes eyelash extensions are very popular,and many many different styles for choices,and different lengths 8-16mm,C,D curl.So if you plan to add more lashes in your now business ,the DIY cluster lash extensions can not to be missed definitely.They can increase your sales,sell very fast and you can gain more profit.And these DIY cluster lashes are popular once have,and still keep the hot.Due to these DIY cluster lashes eyelash extensions advantages cant be replaced by any kind of lashes,they combine the advantages of strip false eyelashes and individual eyelash extensions.So you can rest assured to sell them,they will help your eyelash business booming.
FAQs for the DIY lash clusters lash extensions:
1.What are DIY lash clusters lash extensions?
DIY lash clusters are pre-made groupings of individual lash extensions, usually in clusters of 3-5 lashes. They are designed
for at-home use by individuals who want to enhance their lash appearance.
2.How are DIY lash clusters different from professional lash extensions?
DIY lash clusters are intended for self-application and are often more temporary compared to professionally applied lash
extensions. Professional extensions are individually applied and require specialized training.
3.Are DIY lash clusters suitable for beginners?
DIY lash clusters can be suitable for individuals with some experience in applying false lashes or makeup. Beginners may
need practice to achieve desired results.
4.How do I choose the right length and style of DIY lash clusters?
DIY lash clusters come in various lengths and styles. Choose a length and style that enhances your natural lashes and
complements your eye shape.
5.How do I apply DIY lash clusters lash extensions?
Apply adhesive to the base of the lash cluster and place it on your natural lash line. It's important to follow the application
instructions provided with the product.
6.What type of adhesive should I use for DIY lash clusters?
Use a lash adhesive that is specifically formulated for individual lash clusters. Always perform a patch test to check for allergies.
7.How long do DIY lash clusters lash extensions last?
DIY lash clusters are usually temporary and can last anywhere from a day to a week, depending on the adhesive and your
aftercare.
8.Can I wear makeup with DIY lash clusters lash extensions?
Yes, you can wear makeup, but be gentle when applying and removing makeup to avoid damaging the extensions. Avoid
using oil-based products.