Easy fan faux mink eyelash extensions
Creating easy fan faux mink eyelash extensions involves using pre-made fan lashes to achieve a voluminous and fluttery
lash look. This technique is more beginner-friendly compared to traditional hand-made volume fans. Here's a step-by-step
guide on how to apply easy fan faux mink eyelash extensions:
Materials You'll Need:
Easy fan faux mink eyelash extensions
Lash adhesive
Tweezers (straight and/or curved)
Lash adhesive holder or adhesive sticker
Lash cleanser (oil-free)
Lash primer (optional)
Step-by-Step Guide:
Prepare Your Work Area:
Set up your work area with good lighting and make sure you have all your materials ready.
Prep the Natural Lashes:
Ensure your client's natural lashes are clean and free from any makeup or oils. You can use an oil-free lash cleanser or primer
to prepare the lashes.
Select Lashes:
Choose the easy fan faux mink lashes you want to apply. These lashes are designed to be pre-fanned, making the application
process faster and simpler.
Place Adhesive:
Put a small amount of lash adhesive onto your adhesive holder or adhesive sticker. Be sure to use a high-quality, lash-friendly
adhesive.
Pick Up the Lashes:
Use your tweezers to gently pick up an easy fan lash from the tray. The base of the fan should have a small adhesive strip
holding the lashes together.
Dip in Adhesive:
Dip the adhesive strip of the fan lash into the lash adhesive. Be cautious not to use too much adhesive.
Placement:
Place the fanned lash directly onto the natural lash, making sure the adhesive contacts the natural lash base. The fan should
open up and adhere to the natural lash.
Press and Release:
Gently press the fan onto the natural lash for a few seconds to ensure proper adhesion. Then, release the pressure and move
on to the next lash.
Repeat:
Repeat the process for each natural lash, working your way across the lash line. Apply the fans evenly and avoid clumping or
overlapping the lashes.
Check and Adjust:
After applying all the fans, check for any loose lashes and make any necessary adjustments to ensure they are secure and
well-distributed.
Drying Time:
Allow the adhesive to fully dry before your client opens their eyes or moves. Follow the adhesive's recommended drying time.
Aftercare Instructions:
Provide your client with aftercare instructions, including avoiding water for the first 24 hours, not using oil-based products
around the eyes, and being gentle when cleansing.
Remember, practice is crucial to perfecting this technique. It's a good idea to practice on a mannequin head or practice lashes
before working on clients. If you're new to eyelash extensions, consider taking a training course to learn proper techniques
and safety practices.
Easy fan faux mink eyelash extensions
The easy fan faux mink eyelash extensions,can do J,B,C,CC,D,CC,L,LC,LD,M curls,and you can see the below pictures for the different cursive from the below pictures.We do customized,and that include logo,lash thickness,lash curl,lash length,private label,customized package boxes.
Faux mink materials are soft,light weight,and have good flexibility and natural looking,so they are popular and liked.They can do 0.03,0.04,0.05,0.06,0.07,0.08,0.10,0.12,0.15,0.18,0.20,0.25mm thickness,B,C,CC,D,DD,J,L,M curls in 7-25mm length.And the eyelash extensions can do single length in one tray or mixed length in one tray as need.And each tray can do 6lines,12lines,16lines,18lines,20lines as need.And different customized package boxes for choices.So you can do the package and labels your own,to show your special lashes,that will be easy acceptable.
Our faux mink eyelash extensions made by the experienced workers and our company special artwork to ensure the lashes curl keep longer,and standard,and even if heat the lashes,curl still keep the same.And with our good quality,your lashes will be really popular during your users,and they will like our lashes feel and lasting,and that is very easy for you to have long-term users,is very good for your long-term business.And we are the basis eyelash extensions facotry and manufacturer,so our price is lower than the trader.And when you sell,you can sell lower than others,so it is easy for you to catch more customers,and also if you sell the same price as others,you can gain more profit.They are all very good advantages for your lash business to last longer.
Also we do all the eyelash extensions tools and related accessories,such us eyelash extensions glues,primers,super bonder,removers,shampoo,gel pads,mascara brushes,tapes,etc.You can get one stop service at us,saving your time.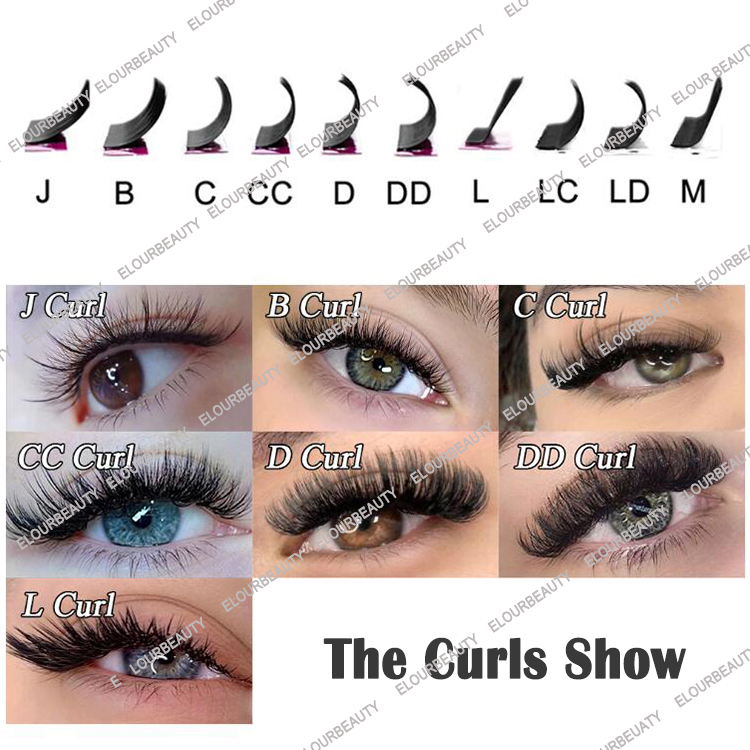 You can see the different curls show on the different eyes,do you like which one,the natural,or the charming ones.No matter what is your eyeshape,there will be one curl faux mink eyelash extensions suit for you.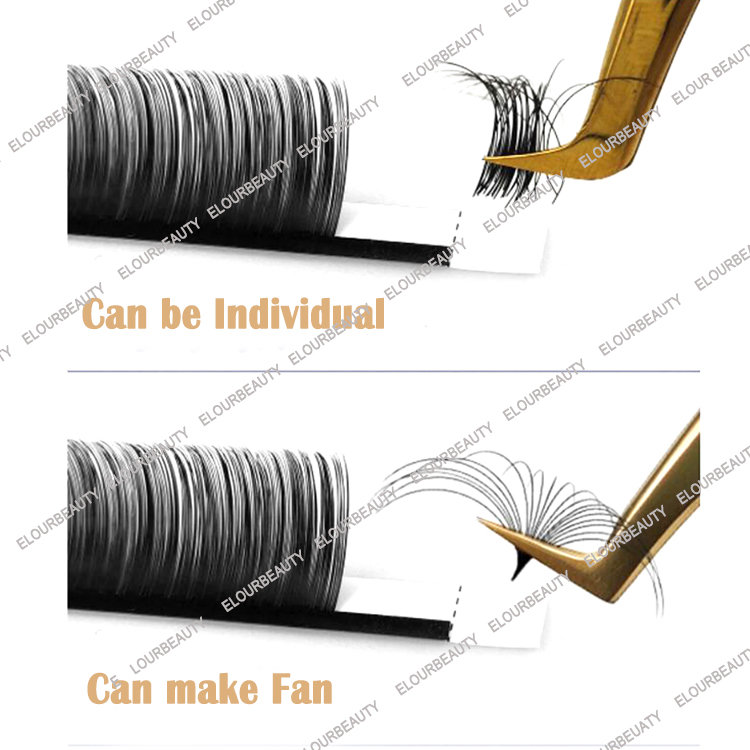 Our faux mink eyelash extensions,can take individual by individual,no glue,no kink,easy to take,easy to use.And also can make fans easily,can make any fans as like.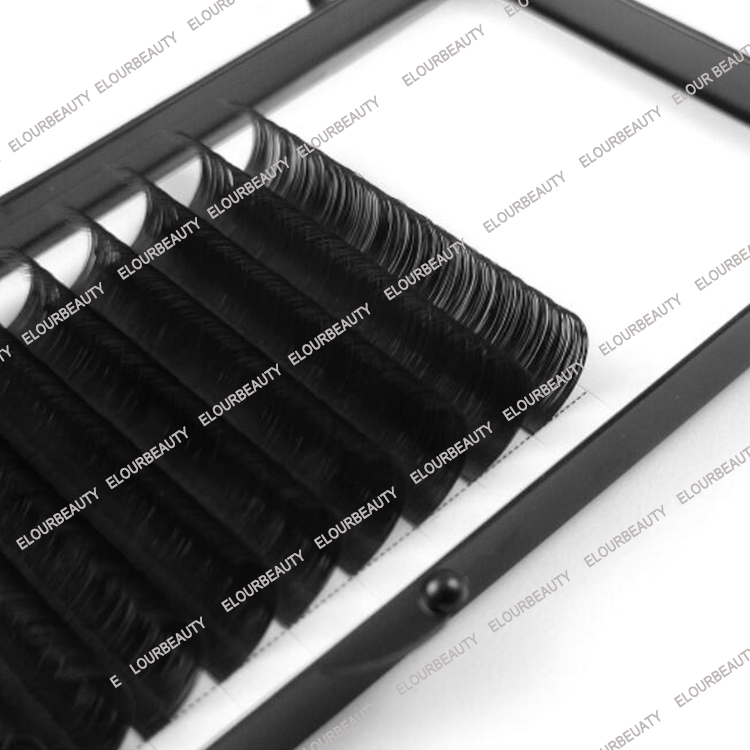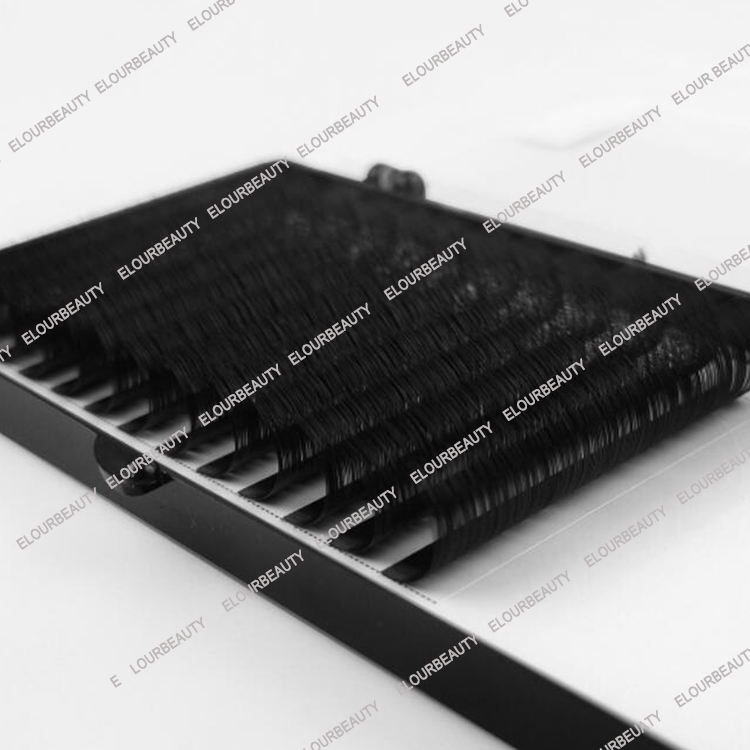 The details clearly show of our faux mink eyelash extensions,C curl and D curl in white labels 12lines that lash box,neat,clean and black color,single length.All can customized for you.
FAQs for easy fan eyelash extensions:
1. What are Easy Fan Faux Mink Eyelash Extensions?
Easy Fan Faux Mink Eyelash Extensions are a type of semi-permanent eyelash extension made from synthetic materials
that mimic the look and feel of real mink fur. They are designed to be lightweight and easy to apply in fan-like clusters, simplifying the lash extension process.
2. How are Easy Fan Faux Mink Eyelash Extensions different from traditional extensions?
Traditional eyelash extensions require individual lash-by-lash application, while Easy Fan extensions come in pre-made
fan clusters. This makes the application process faster and more efficient.
3. Can I apply Easy Fan Faux Mink Eyelash Extensions myself?
It's recommended to have Easy Fan extensions applied by a trained and certified lash technician. The fan application
requires skill and precision to achieve the best results and to ensure your natural lashes remain healthy.
4. How long do Easy Fan Faux Mink Eyelash Extensions last?
The extensions can last around 4 to 6 weeks, depending on your natural lash growth cycle and how well you care for them.
Regular fills are recommended every 2 to 3 weeks to maintain the desired look.
5. Are Easy Fan extensions comfortable to wear?
Yes, Easy Fan Faux Mink Eyelash Extensions are designed to be lightweight and comfortable. When applied correctly and
in the appropriate size, they should not cause discomfort.
6. Can I customize the look of Easy Fan Faux Mink Eyelash Extensions?
Absolutely! Your lash technician can work with you to achieve your desired look, whether it's a natural or more dramatic
appearance. Different lengths, curls, and thicknesses are available.
7. Can I wear makeup with Easy Fan extensions?
You can wear makeup with extensions, but it's recommended to use oil-free and water-based products to prevent premature
lash extension loss. Avoid using waterproof mascara, as it can be difficult to remove and may weaken the adhesive.
8. How do I care for Easy Fan Faux Mink Eyelash Extensions?
Avoid getting them wet for the first 24 hours after application.

Avoid oil-based products near the eye area.
Gently clean them with a lash extension-safe cleanser.
Brush them daily with a clean spoolie to keep them looking neat.
Avoid rubbing your eyes or pulling on the extensions.
9. Are Easy Fan extensions suitable for everyone?
While most people can enjoy Easy Fan Faux Mink Eyelash Extensions, those with severe allergies or sensitivities may want
to consult with a doctor before getting extensions.
10. How long does the application process take?
The application process for Easy Fan extensions can vary, but it generally takes around 1.5 to 2.5 hours for a full set,
depending on the desired look and the skill of the lash technician.