Two tone ombre colored eyelash extensions tray
Item name: Two tone ombre colored eyelash extensions tray
Curl: C,D curl
Thickness: 0.07mm
Length: 8-14mm
Package: Arcylic box or customized magnetic box,private label,logo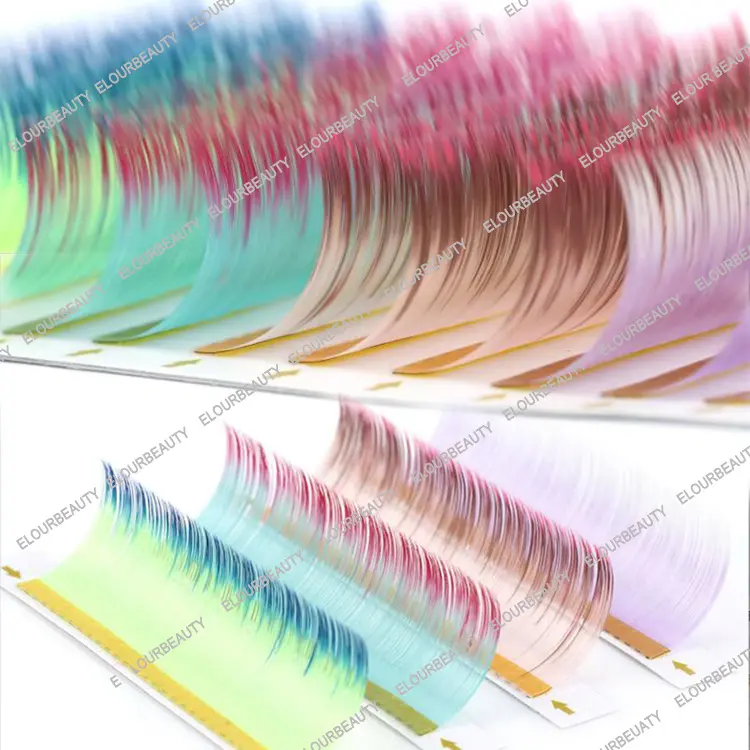 The two-tome ombre color eyelash extension trays,the lash hairs are one color in base and other color in tip,yellow base blue tip,blue base red tip,3 colors ombre,pink base white tip.These eyelash extensions are in beautiful colors,can decorate the black colors,give a dazzling beauty before my eyes.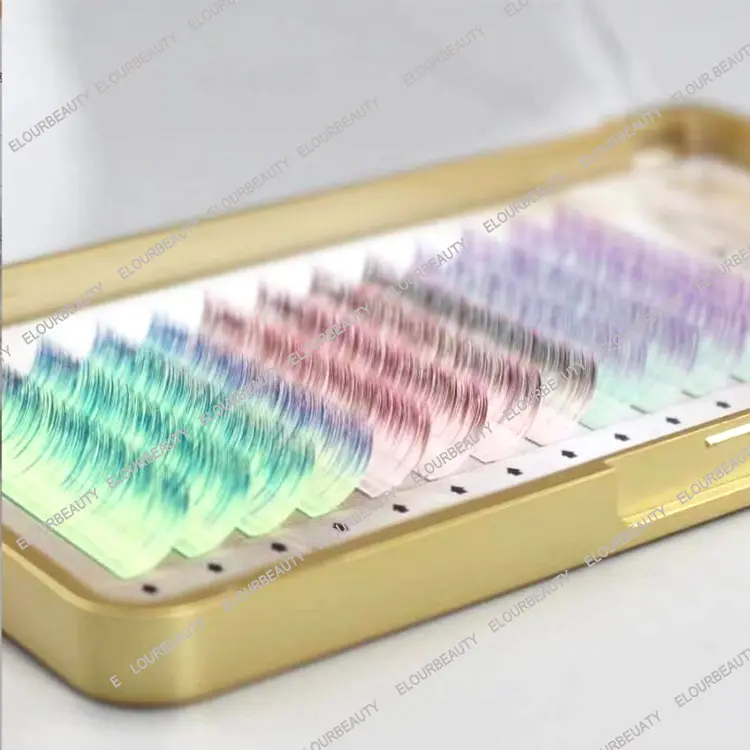 This is a ombre color eyelash extensions tray with 3 different two-tone ombre colors and each color is with 4lines.This mixed color lash tray is very convenient to use,one tray can solve different colors requirment for a grafting need.The gold arcylic box with circle angels,luxury and small,exquisite and beautiful.Private logo can be made.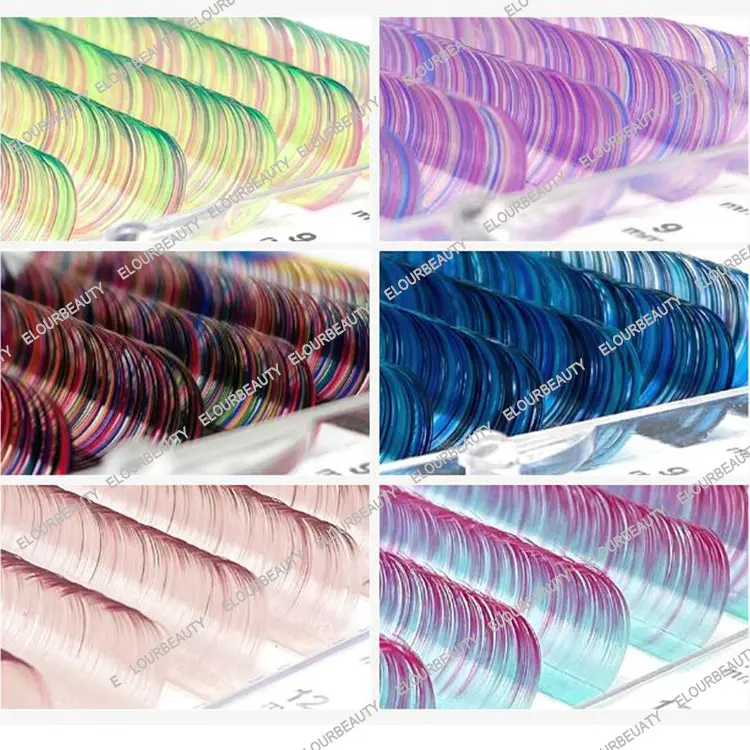 Here are some more different colors for the ombre color eyelash extensions trays.They are ombre rainbow colors are so beautiful and glaming,give your eyes shining looking.
The grafting effect for the ombre colors eyelash extensions: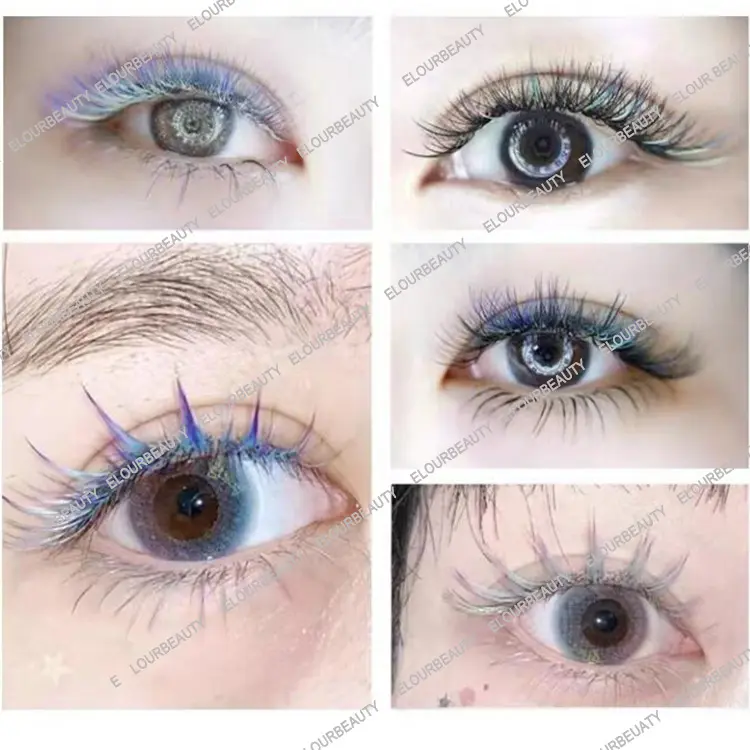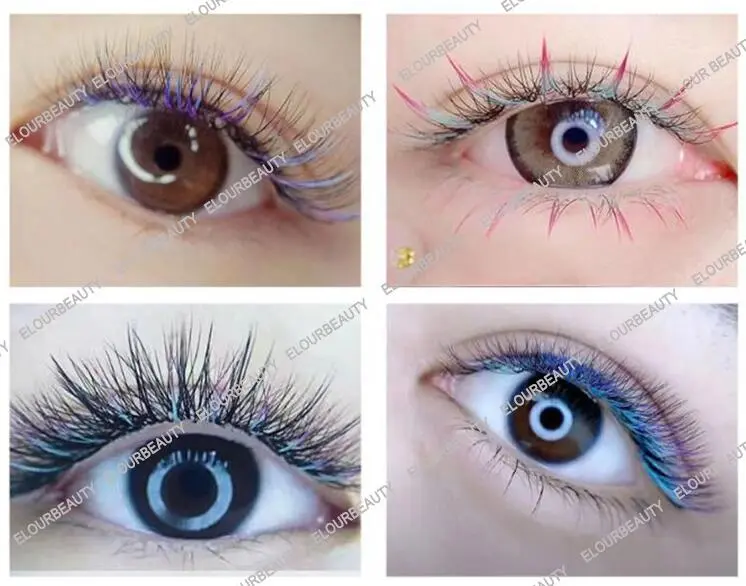 There are some grafting effect with ombre colors eyelash extensions,most are black embellish with ombre colors ,the colors lashes made your eye lashes are not old-fashioned,added a bright color to the eyes.They are very popular.

The two tone ombre colored eyelash extensions can add the pop to your natural lashes,they are a fun and unique way to enhance your natural lashes.Ombre lash extensions have been a popular trend in the beauty industry for a while now. This technique involves blending two or more colors together to create a gradient effect. When it comes to eyelash extensions, the tips of the lashes are a different color than the base, creating a subtle yet eye-catching effect.
Colored lash extensions are also very popular in recent years. These extensions come in a variety of colors, from bold blues and purples to more subtle browns and blondes. They're a great way to add some personality to your look and make your eyes stand out.One of the best things about these extensions is that they're incredibly versatile. You can create a bold and dramatic look by using a brighter color combination, or opt for a more subtle effect with a softer blend of colors. They're perfect for special occasions,photo shoots, or just for everyday wear.
If you're a lash artist, a colored lash extensions tray is a must-have in your kit. It allows you to offer your clients a unique and
personalized lash look that they won't be able to get anywhere else.
The two tone ombre colored eyelash extensions trays are so popular,so to add them in your lashes business will be a very good choice.It will help your business.