Best colored volume eyelash extensions trays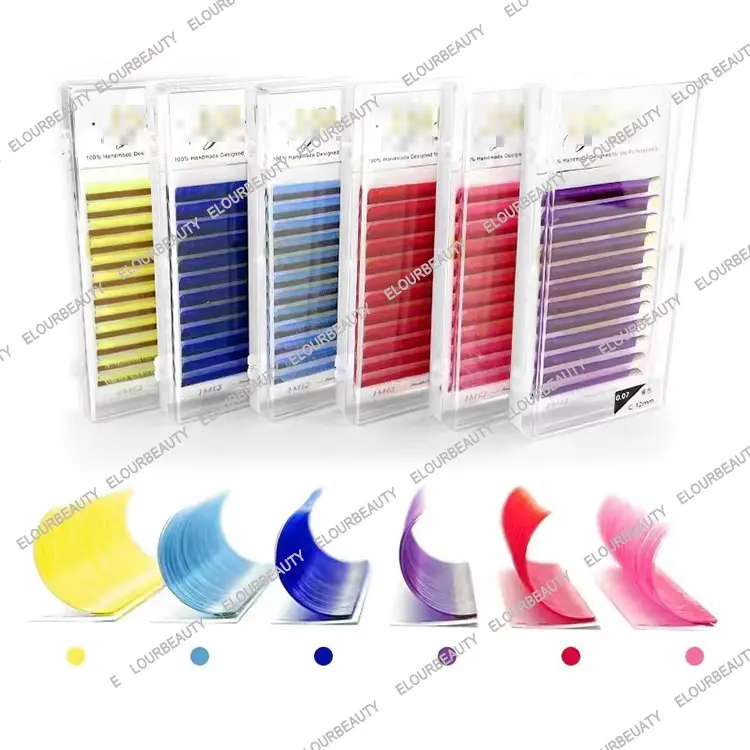 There are 6 different colors of the eyelash extensions,yello,light blut,dark blut,purple,pink,they are in 0.07mm thickness C curl,packed in the white arcylic box.And private label package can be made.They are in volume thickness,and the softness,the lightness,the beautiful color,the long lasting curl,made our colored eyelash extensions trays are the best lash extensions.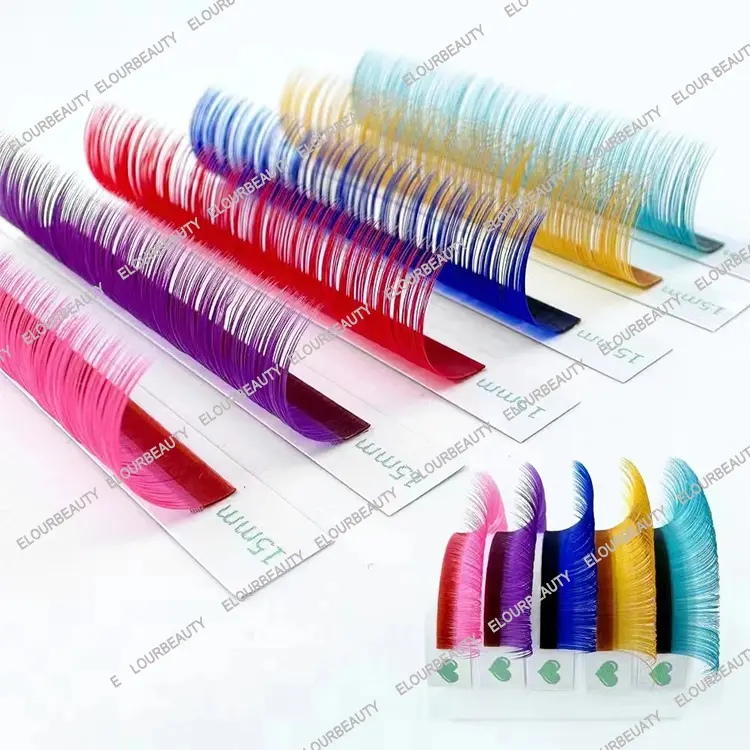 The side looking and backside seeing of our color eyelash extensions.Such more choices colors are very convenient to use when grafting,can satisfy different customers different colors need only one tray.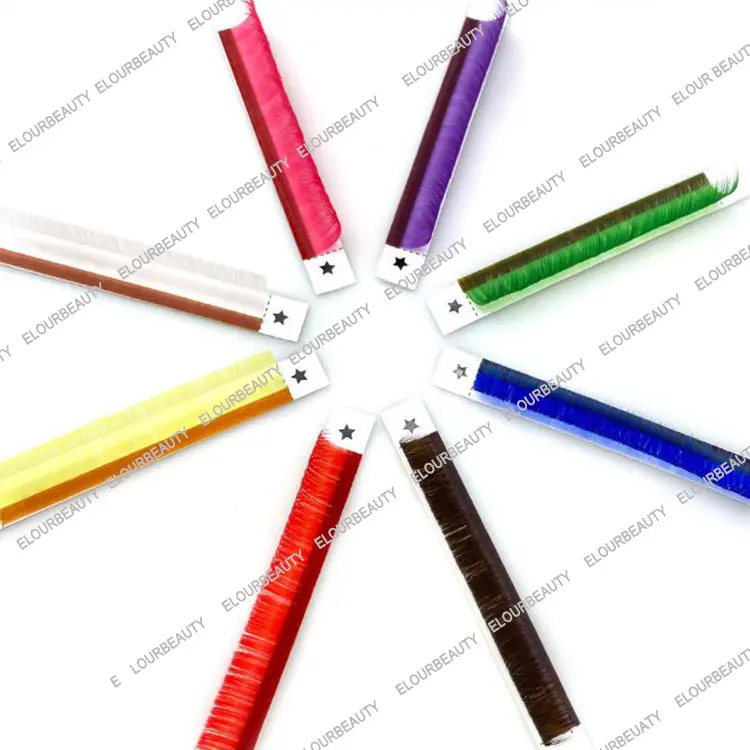 Here are 8 different colors of the colored eyelash extensions,each color is in one row,and when use also take one row from a lash tray.So when we make a mixed color tray,that will be very convenient to use.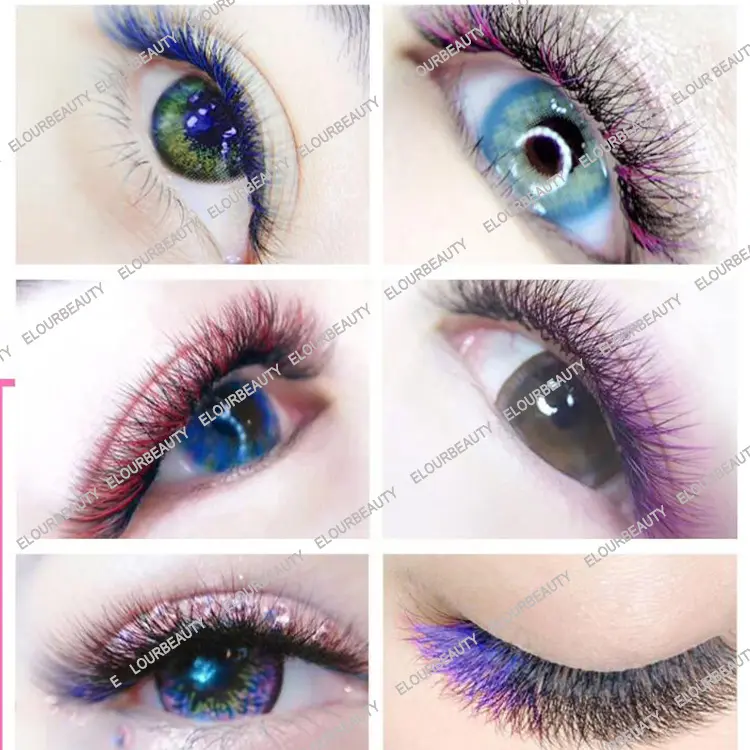 Here are the grafting effect for the colored eyelash extensions.No matter colored lashes decorate the black lashes,or only use the colored eyelash extensions,both are beautiful looking.
The black eyelash extensions are the lash extensions popular from the start,but only black color,maybe a little monotonous,the colored eyelash extensions solve the problem,it gives the black lashes a bright color,make the eyes more lively,so the colored eyelash extensions are more likes.
No matte you are a lash artist,or a lash technician,or a lash trainer,or the beauty salons,the colored eyelash extensions are necessary.They will attract your customers and make your clients happy.
Our Elour colored eyelash extensions,have many more different colors for choices,and have different thickness,different curls,so give you more choices.And we use the best lash materials to keep our eyelash extensions in high quality,and also we guarantee our eyelash extensions in long lasting curls,and neat clean,also we are the lash factory manuracturer,so we have best price advantages.And we have professional design team,can design your brand logo package as need.
FAQs for colored lash extensions:
1.What are colored volume eyelash extensions?
Colored volume eyelash extensions are individual lash extensions that come in various colors, creating a vibrant and unique look.
2.How do colored volume eyelash extensions differ from traditional lash extensions?
Colored volume lash extensions provide an opportunity to add a pop of color to your lashes, enhancing your overall
appearance and allowing for creative and personalized styles.
3.What colors are available for colored volume eyelash extensions?
Colored volume lashes come in a range of colors, including but not limited to black, brown, blue, green, purple, red, and more.
4.Are colored volume eyelash extensions suitable for everyday wear?
Colored volume lashes can be worn for special occasions or as part of a creative makeup look. Their suitability for daily wear
depends on personal preferences and the desired look.
5.Can colored volume eyelash extensions be customized to match my eye color?
Yes, you can choose colors that complement or enhance your natural eye color, creating a harmonious
and striking effect.
6.Are colored volume eyelash extensions safe for my natural lashes and eyes?
When applied by a trained professional, colored volume eyelash extensions are generally safe. It's
important to ensure that the adhesive and materials used are of high quality.
7.Can I mix colored volume lash extensions with traditional black lash extensions?
Yes, you can create a mixed or ombré effect by combining colored volume lashes with traditional
black lashes for a unique and eye-catching look.
8.How long do colored volume eyelash extensions last?
Colored volume lash extensions typically last as long as traditional lash extensions, which is about 2 to 4 weeks,
depending on your natural lash growth cycle.
9.Can I wear makeup with colored volume eyelash extensions?
Yes, you can wear makeup, but be gentle when applying and removing makeup to avoid damaging the extensions.
Colored lashes can also enhance the effect of your eye makeup.
10.Are colored volume eyelash extensions suitable for all eye shapes?
Yes,colored volume lash extensions can be tailored to suit various eye shapes, helping to create a flattering and
customized appearance.