New style no glue 3D mink self-adhesive aliexpress lash vendors
Self adhesive eyelashes why so attractive,why so many likes,because the easiest wearing of the lashes themselves.And now our self-adhesive eyelashes are not the before ones,these are the improved upgraded ones,the tapes are stronger and sticky than before,can use again and again,the tapes last longer than before.And also the packages are new,the trays are new.The trays are with an extra tape can replace when the original one is broken,add the lashes wearing times.And no need glue,no need eyeliner,so there is no damage to the eyelashes,also add the lashes life.
"New style no glue 3D mink self-adhesive AliExpress lash vendors" refers to a specific type of eyelash product and the sellers or
vendors offering them on the AliExpress platform. Let's break down this term:
New Style: This suggests that the eyelashes being described are of a contemporary or trendy design. They may feature
innovative elements or aesthetics that set them apart from traditional eyelash styles.

No Glue: This indicates that these eyelashes are designed to be applied without the use of traditional eyelash adhesive or glue.
Instead, they likely have an adhesive strip or mechanism that allows them to stick directly to the eyelid or natural lashes.

3D Mink: "3D Mink" refers to the type of eyelashes. These are typically made from the fur of the mink, known for its soft and
natural appearance. The "3D" aspect suggests that these lashes have a three-dimensional, layered look for added depth and
volume.

Self-Adhesive: This means that the eyelashes have an adhesive backing or mechanism that allows them to stick to the eyelid
or natural lashes without the need for additional glue or adhesive products.

AliExpress: AliExpress is an online marketplace where various sellers and vendors offer a wide range of products, including
beauty and cosmetic items.

In summary, "New style no glue 3D mink self-adhesive AliExpress lash vendors" describes a product category available on the
AliExpress platform. These eyelashes are characterized by their trendy design, lack of traditional glue requirement, 3D mink
material, and self-adhesive feature, which makes them easier to apply. Multiple vendors on AliExpress offer these lashes for
purchase, providing customers with a variety of options and styles to choose from.

Production Description
| | |
| --- | --- |
| Product Name | New style no glue 3D mink self-adhesive aliexpress lash vendors |
| Material | Korean pbt fibers |
| Curl | C,D |
| Thickness | 0.05,0.07,0.10mm |
| Length | 6-25mm |
| Techinique | Hand made |
| Color | Natural Black |
| MOQ | 20trays per size |
| Samples | Accepted |
| Package | Custom package is available |
| OEM,ODM | Available,and we do wholesale with your private label packages |
| Payment Terms | T.T,Paypal,Western Union,Money Gram |
| Shipment Terms | By Sea,Air or Express |
| Delivery Time | 15-20 working days as your order details,5-7days if stocked |
New style no glue 3D mink self-adhesive aliexpress lash vendors pictures: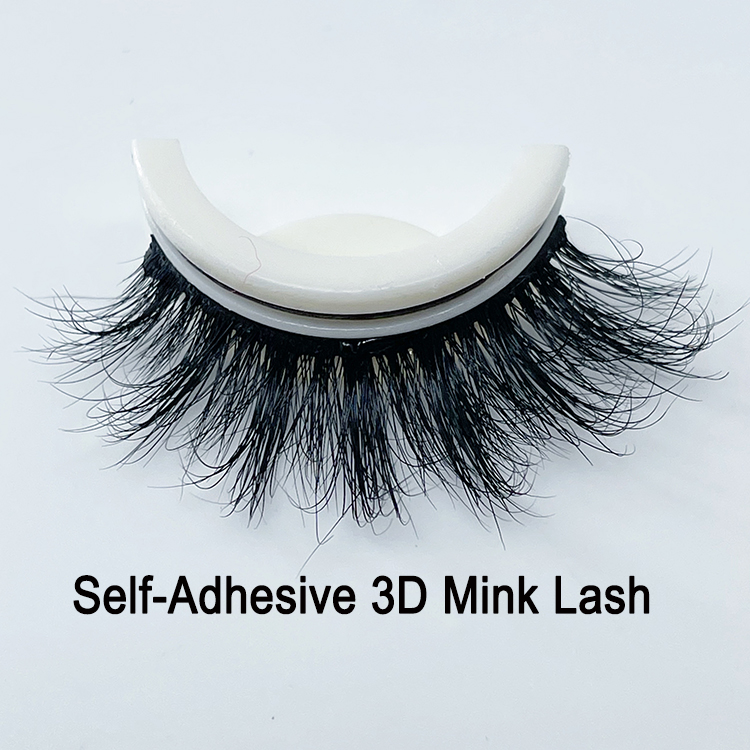 The self-adhesive no glue strip eyelashes,no need glue,no need eyeliner,with glue it self,can wear directly.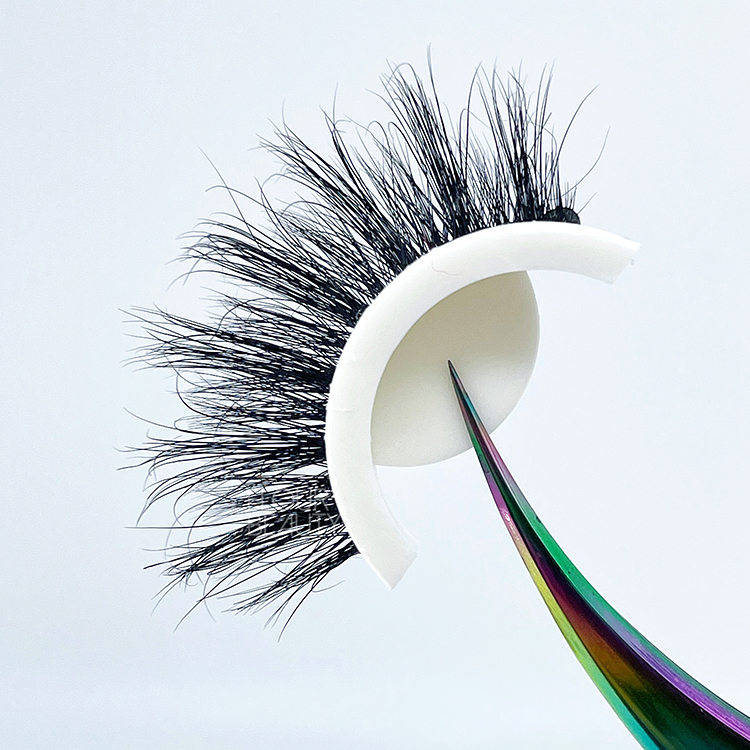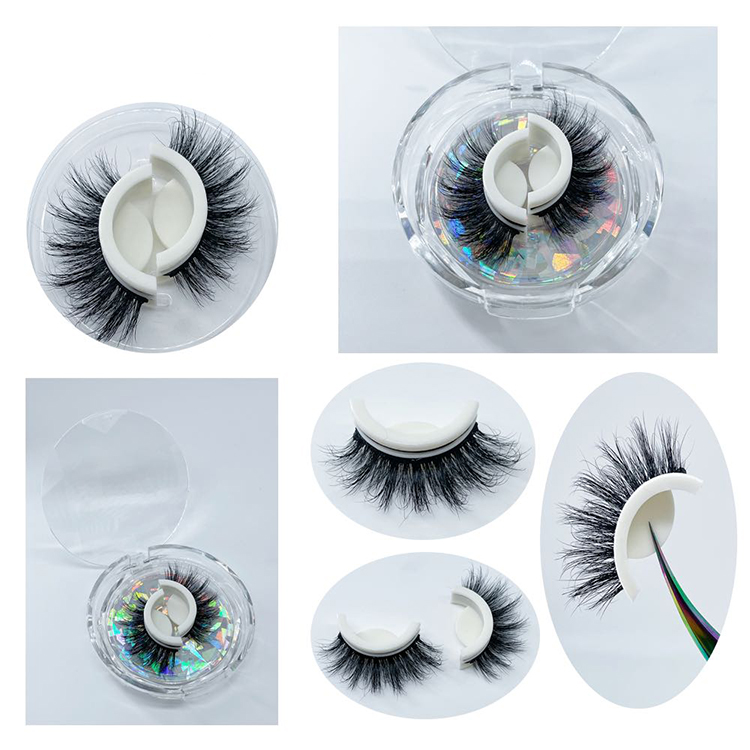 Different angels show of our self-adhesive 3D mink eyelashes,you can see what the lash is ,and how beautiful it is.And pack in the clear circlr box,make the lashes more luxury and lovely.
More styles of the Self-Adhesive Strip eyelashes:
We have many styles of self-adhesive eyelashes 3D mink eyelashes,and can customized for different lashes as need.And we also have faux mink preglued eyelashes for choices,welcome to try.
And these 3D mink self-adhesive eyelashes are our new lashes launched in Jun,once launched the market,gain great feedback,and warm likes.These lashes are made by the real mink lash hairs,so they are fluffy and more volume.And the multiple layers,the fluffy curl,made the lashes come to perfect.With the self-adhesive tape,it adds the easy wearing of these 3d mink lashes,and also longer the lashes wearing times,and reusable again.And the extra tape for each lash,it is the intimate design,can replace to use again and again.And also these tapes are the improved ones,really sticky,but really comfortable,and easy to peel off,after take off,the tape come to the original shape again.All designs are the perct ones.You surely will love our self-adhesive eyelashes.
If you just want to start your eyelash business, these new 3D mink self-adhesive eyelashes are the good choices.No need big investment,because our MOQ is 10pairs,and you can own small eyelash business,no need order big quantity,but you can have your own business,do your own boss.What are you hesitate?Join us soon,you will win!
The related eyelash products for eyelashes:
We do different kinds of lash applicator,brushes,lash adhesive and glues and private label package boxes,all can do private label.
Excellent feedback for our eyelashes: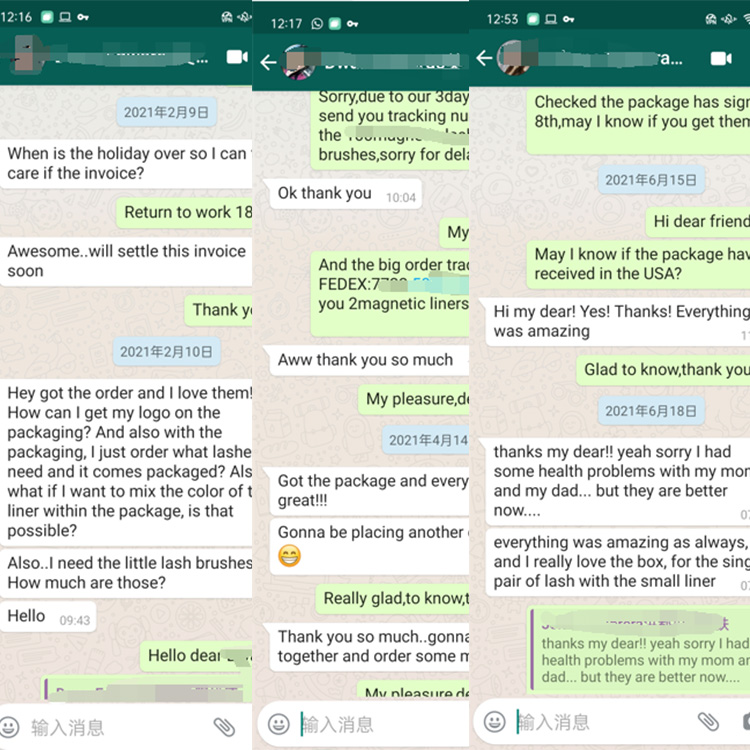 Marika from Australia: The lashes are fantastic.I am very happ with them and they look great.I am going to do another order very soon.
Elizabeth from Canada: I love the cashmere classic lashes that I've been using.I will do big order again.
Ocean from US: I'm so in love with the lashes u sent us last time.All my clients love them.They are the best lashes I have ever used.I will never use any other lashes again.
You can try our premade fans eyelash extensions to test our quality,believe you will love.

FAQs for no glue self-adhesive lashes:
1. What are New Style No Glue 3D Mink Self-Adhesive Lashes?
Answer: These are a type of eyelash product made from 3D mink material and designed to be applied without traditional
eyelash adhesive or glue. They feature a self-adhesive backing for easy application.

2. How do self-adhesive lashes work?
Answer: Self-adhesive lashes have a pre-applied adhesive strip or mechanism. You simply peel off the protective backing,
and the adhesive allows the lashes to stick directly to your eyelid or natural lashes.

3. Are these lashes easy to apply for beginners?
Answer: Yes, self-adhesive lashes can be easier for beginners since they eliminate the need for applying eyelash glue. However,
it's essential to follow the application instructions carefully for the best results.

4. Are self-adhesive lashes reusable?
Answer: Some self-adhesive lashes can be reusable with proper care. Gently remove any residue from the adhesive after each
use and store them in their original case to maintain their shape.

5. Can I still wear makeup with self-adhesive lashes?
Answer: Yes, you can wear makeup with self-adhesive lashes. Apply eye makeup as usual, avoiding any oil-based products on
the lash line to ensure a secure bond.

6. Do these lashes come in different styles and lengths?
Answer: Yes, self-adhesive lashes are available in various styles, lengths, and levels of volume to suit different preferences and
occasions.

7. Are they suitable for people with sensitive eyes or allergies?
Answer: Self-adhesive lashes can be a suitable option for individuals with sensitive eyes or allergies as they eliminate the need
for lash adhesive, which can sometimes cause irritation.

8. How can I find reputable AliExpress lash vendors for these products?
Answer: Look for vendors with positive reviews and high ratings. It's a good practice to read customer feedback and verify the
vendor's credibility before making a purchase.

9. What is the price range for self-adhesive 3D mink lashes on AliExpress?
Answer: Prices can vary based on the brand, quality, and quantity of lashes included in the package. Generally, you can find a
wide range of options to fit different budgets.

10. Can I get a refund or exchange if I'm not satisfied with my purchase from an AliExpress lash vendor?
- Answer: AliExpress has a buyer protection policy that includes refund and dispute resolution options. Be sure to read the
vendor's return and refund policy for specific details.
Contact Us:
Our factory choose the high mateirals and have stict QC system and experienced workers to keep the high quality of our eyelashes.Welcome the friends from all over the world to visit us.And sincerely hope we can do business with you our honored customers.Any question,please feel free to contact.
Get Wholesale Price List: info@elourlashes.com
Whatsapp: 0086-15964911928
You may like:
Private label magnetic eyelash kit by eyelash manufaturer uk EN21